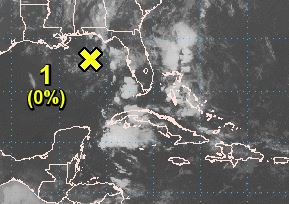 The National Hurricane Center's latest advisory shows an area of low pressure in the northeastern Gulf of Mexico is forecast to degenerate. 

NHC reduced the chance of formation from 40 percent down to zero percent in its 8:05 a.m. EDT update.

"A broad non-tropical area of low pressure located over the northeastern Gulf of Mexico is producing widespread cloudiness, showers, and thunderstorms 
across much of Florida, western Cuba and a good portion of the Bahamas.  This system is forecast to degenerate into a trough of low pressure, and tropical cyclone
formation is not anticipated," stated Forecaster Lixion Avila.

Per NHC, this is the last Special Tropical Weather Outlook which will be issued on the system, but additional information will be included in products 
issued by your local weather service offices. Routine Tropical Weather Outlooks will resume on June 1.