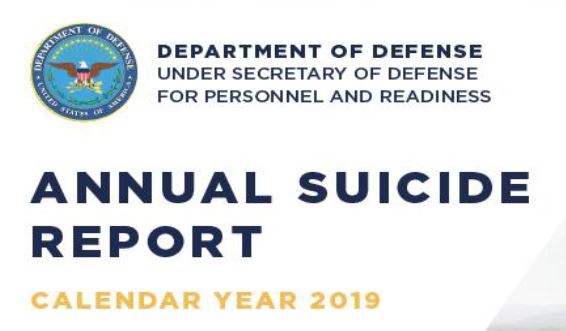 Dr. Karin A. Orvis, the U.S. Defense Department's director of the defense suicide prevention office, on Friday released the agency's Annual Suicide Report, which states 498 service members died by suicide in 2019.
"Suicide is preventable," stated Orvis, adding that suicide is often a sudden and impulsive act which forever changes the lives of families and communities.
After accounting for age and gender, military suicide rates are comparable or lower than the U.S. population, said Orvis, who said DOD is committed to a comprehensive, multi-faceted approach to prevent suicide because there is no one "fix."
"Since the release of last year's report, the department has worked to increase coping skills among young and enlisted members, enhanced access to resources for National Guard members, increased support to military families and furthered program evaluation efforts and has taken proactive steps to mitigate potential impacts from COVID-19," she said.
Compared to the past two years, the 2019 suicide rate for active duty service members is statistically comparable to 2017, while the reserves and National Guard rates are statistically lower than 2017, the director said.
Long term, from 2014 to 2019, the active duty rate increased, while there is no statistical evidence of an increase or a decrease for the reserve and National Guard. The department found continued heightened risk for young and enlisted members, Orvis said.
At this time, the director said, it is too early to determine whether suicide rates will increase for 2020.
"We will need to have the full year of data and investigations completed to determine [the] cause of death," she added.
According to Orvis, the department will support the roll out of a new 988 crisis hotline to help with prevention.
"The department cannot prevent suicide alone; it must continue to collaborate on research, data sharing, outreach and other key efforts with federal agencies, nonprofits and academia," she noted.
Click the following link to review the 2019 report: