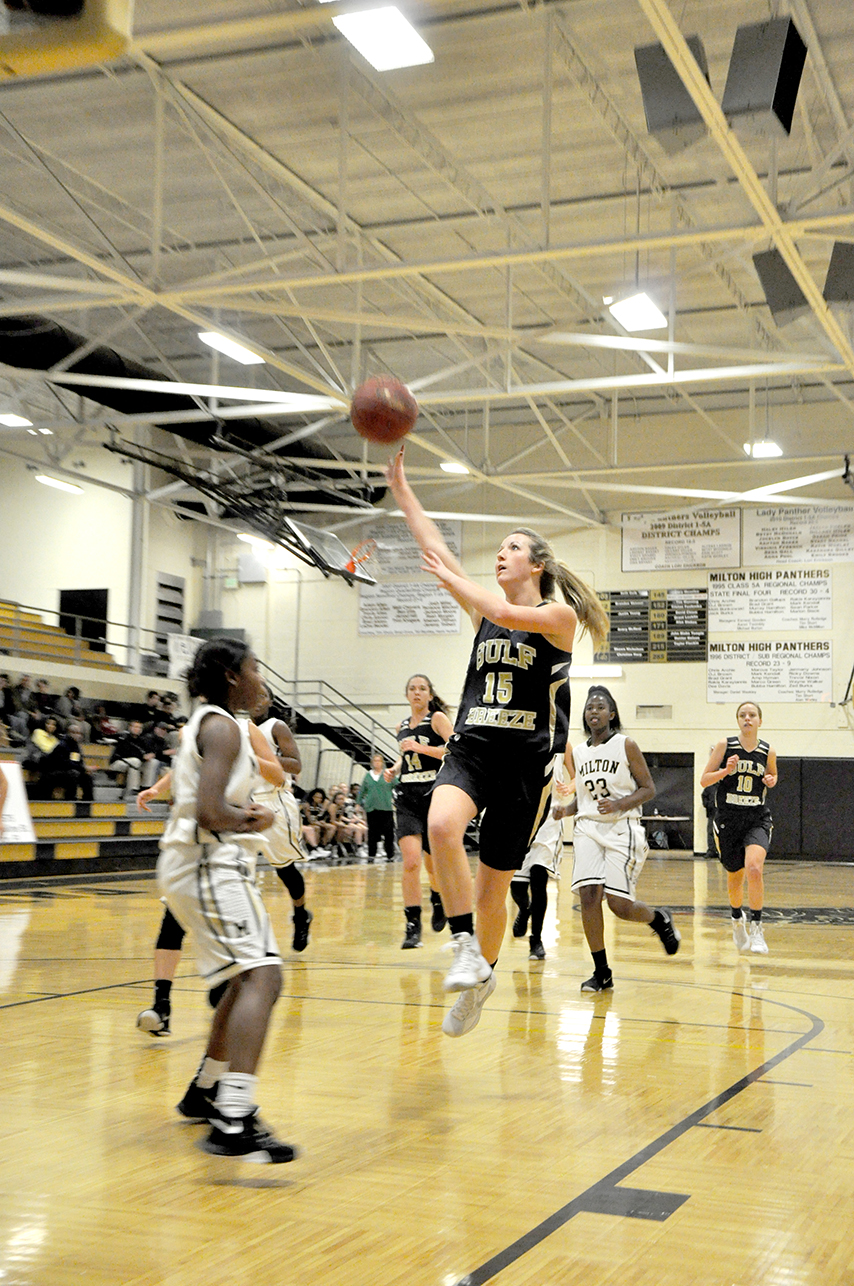 It may have been in the 40s outside, but Gulf Breeze's game against Milton High School last Thursday night had the inside of the gymnasium at Milton High School scorching hot.
The lady Dolphins barely slipped past Milton to win by a nail-biting one point with a final score of 49-48.
A series of fouls in the fourth period cut the scores close, but the final scores at the end of each period made it clear the Panthers were not giving up against the heavy punch of Dolphin defense.
The Dolphins finished out the first period 15-7 over the Panthers, but in the second period, the Panthers had a different approach. Only a minute into the second, Milton scored a layup, but Gulf Breeze's Livi Doerr came back with a 3 pointer, giving the Dolphins a 9 point advantage.
Both teams struggled to make a basket until Maddie-Grace McCurdy followed up on a missed first attempt with a rebound at 4:55 left in the second.
The basket was followed by a set of Panther power plays. A few layups by Milton following the Dolphin basket bought the score up to 22-19, and a final layup from Milton's Trevor Patterson brought the final score of the second up to 22-21.
In the third, Milton started out with a 3 pointer only 10 seconds into the half from Douglas Randall. A later shot by Michelle Barrineau tied the game. Milton eventually rallied back with two layups. But those 4 points were followed up by a jump shot from Dolphin Mallory Proctor with 2:55 left in the period.
Gulf Breeze's Sadie Nix added a smooth 3-pointer to the Dolphins score with only 45 seconds left in the third period. That three pointer was enough to push the Dolphins out of the back and forth tie ending the third 32-29.
Gulf Breeze quickly garnered motivation at the start of the fourth period. That first shot of motivation came from a 3-pointer by Nix only a minute into the final quarter.
Only 1 minute and 30 seconds into the final quarter, Gulf Breeze was up by 9, but that nearly 10-point lead was broken after Milton's Martavious Odom got in a quick layup with 5:30 left in the game.
Nix was able to get in another clean 3-pointer with 5 minutes left in the game, but ultimately a set of fouls/free throws with less than 4 minutes left in the game pushed the Panthers up nearly 10 points. A set of Milton blocks and tough defense prevented the Dolphins from scoring the last three minutes of the game. With the Dolphins leading 49-48, Gulf Breeze's Nix finally dribbled her way past Milton defense to end the game with a free throw miss.