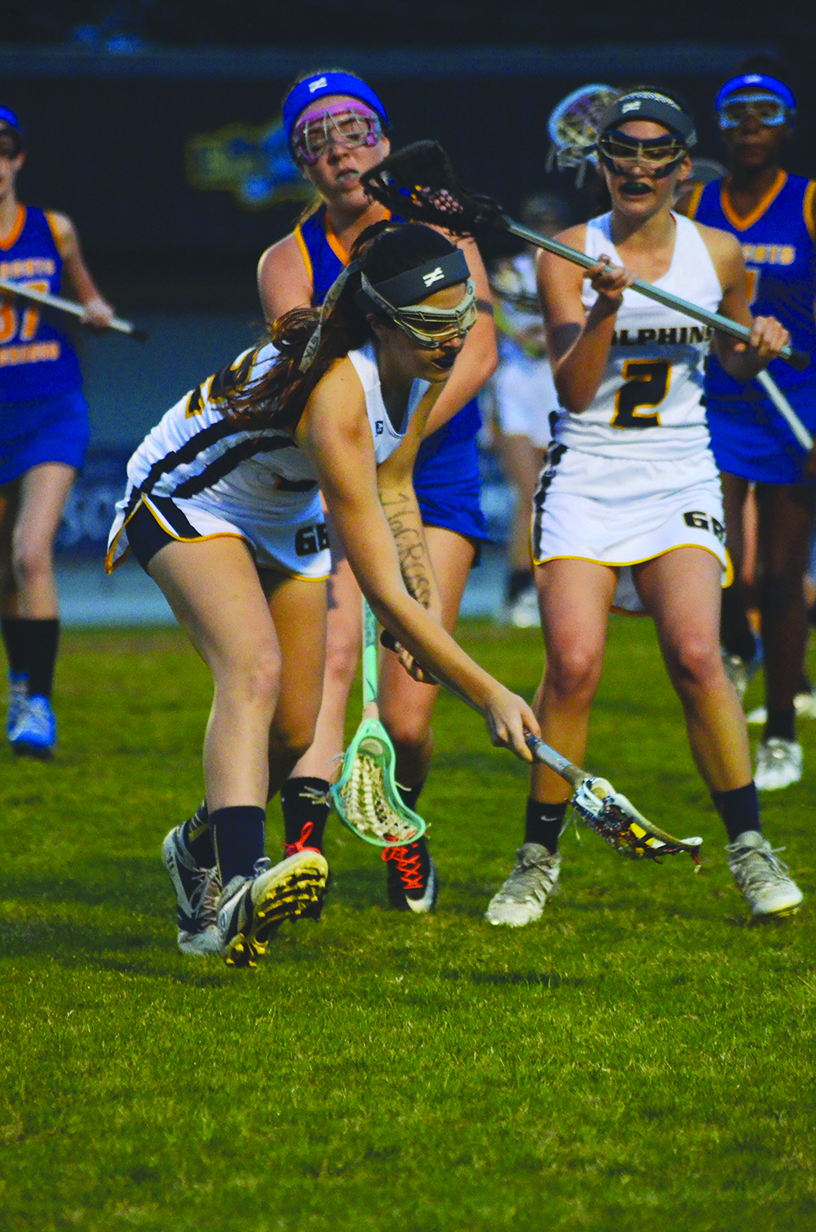 The Gulf Breeze High School Lady Dolphins sweetened their Senior Night match against Booker T. Washington High School with a satisfying 20-2 victory last Wednesday night.
The Gulf Breeze High School Lady Dolphins lacrosse team made waves on Wednesday night with a 20-2 victory over Booker T. Washington High School in a satisfying Senior Night showdown.
Jordan Weddington had her hands full in the Lady Wildcats' goal, recording six saves in the first half alone. Gulf Breeze executed the same tenacious offense that the team has displayed all season and seemed to click on almost every play. The Lady Dolphins got started early, led by a Kate Reagan Costello hat trick, the team put themselves in front 5-0 within the first five minutes.
Washington's defense was much too cautious during the match and continued to allow Gulf Breeze to line up along the top of the box uncontested. The defense lacked energy and was caught off balance and flat footed almost every single time the Lady Dolphins drove towards the goal.
Kamryn Williamson was able to breakthrough and get the only real chance on goal for Washington with 8 minutes 30 seconds left in the first half. Williamson picked up the ball around 25 meters out and drove into the crease, nudging off a weak challenge from Brianna Sekul to give herself space for a hard bounce shot that rolled right beside goalie Alanna Zambetti's foot and into the back of the net.
Less than a minute before halftime Frances Williams came up with a loose ball around the middle of the field and let off a pass to Kaytlyn Carlson just as her stick was checked. Carlson received the pass from Williams at the top of the box, drove toward the goal, juked out a player for space to shoot and sent one home to end the half 14-1.
The Lady Dolphins continued their dominating display in the second half, taking much longer around the top of the box to execute their plays and looking much more accurate in their passing. Unfortunately for Washington, this caused the Lady Wildcats to have even less time with ball – although Jamie Wilbur managed to capitalize on an opportunity with less than 5 minutes left in the match with a quick counter to make the score 19-2.
Costello led Gulf Breeze's offense with four goals and three assists, while Avery Curington added another four. Sekul, Carlson, Megan Pewitt and Keirstin Cramer all contributed two goals apiece and Williams, Reilly Thompson and Adrianna Fuentealba scored one each.
Gulf Breeze remains undefeated in conference play with the win over Washington and secures their position at the top of the district table going into the District 1 Tournament on April 5. The Lady Dolphins' next game is a home match against Parkview High School tonight at 6:30 p.m.