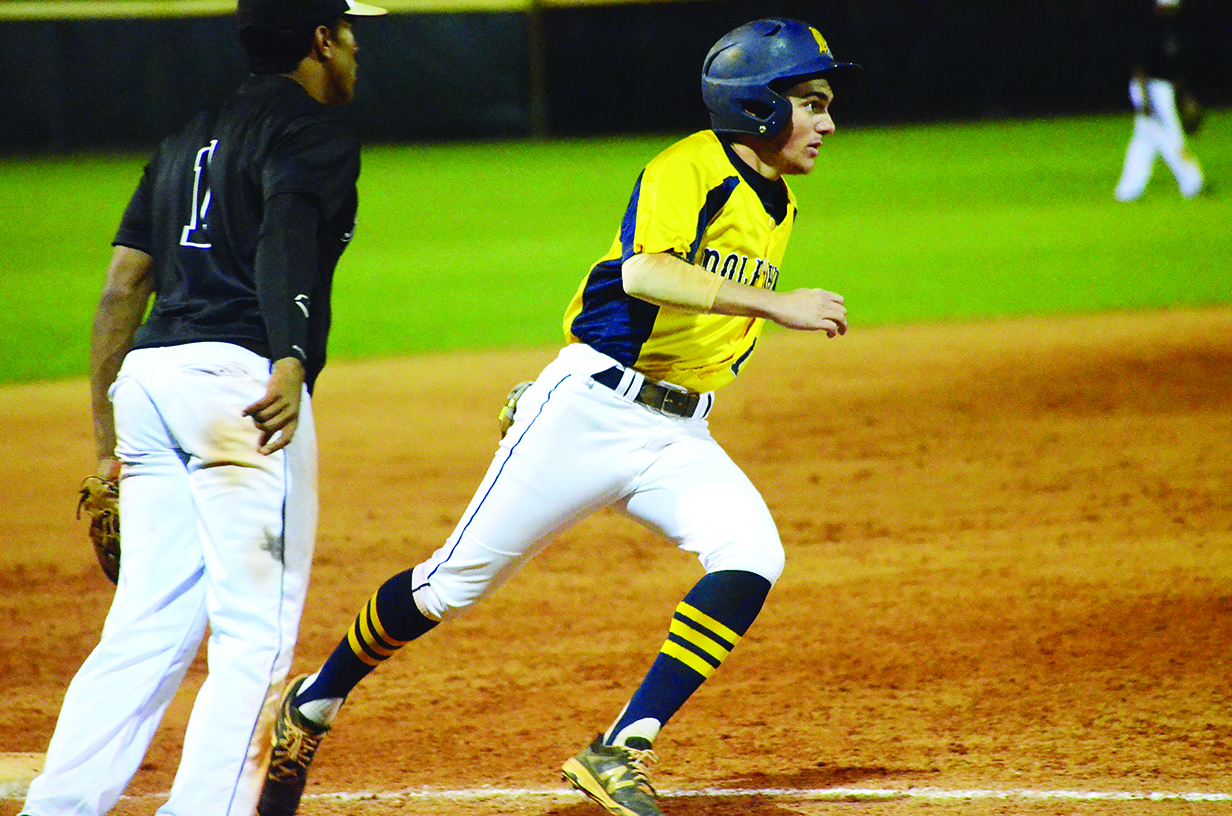 After being down for the entire duration of last Wednesday night's baseball game, Gulf Breeze High School rallied in the bottom of the sixth inning for a 7-4 victory over a bamboozled Rutherford High School team that committed five errors in the final inning.
The Rams got off to a strong start, capitalizing off of an error from Austin Wines — who bobbled the ball at third base and allowed Jacquez Koonce to steal home, putting Rutherford ahead 1-0 in the first inning.
The Rutherford outfield did well in the bottom of the first to defend their lead, starting it off by catching a deep ball in right field from Brandon Schrepf that could have put the team in a precarious position. The infield did its job as well, forcing out the next two batters in order to sweep the inning out of the way and give its offense a chance to increase the lead.
After a scoreless second inning the Dolphins looked to get on the board, and seemed in a good position to do so in the bottom of the third. After Keegan Luchsinger got on base from a Rutherford error, Kendall Gallagher hit a nice line drive that caused Rutherford's Clay Murphy to dive away from second in order to trap the ball — allowing Luchsinger to make it to second base while Murphy got to first.
Despite the nice play, Gulf Breeze failed to capitalize on the chance at hand and closed out the inning with a pair of easy outs. After holding off the Rams for the next inning, Rutherford finally broke through again in the top of the fifth inning when Austin Wines dropped a pass from pitcher Jack Martin and allowed Irvin Maiben to score.
When the Dolphins took to the plate in the bottom of the sixth inning down 4-0, the team knew it was going to be a hard comeback. Luchsinger stepped up to the plate with the bases loaded and hit a low ball to center left field, which allowed Wines to redeem himself and drive what would be the first of seven nails into Ruthorford's coffin.
The other six runs came from Luchsinger, Leland Reames, R.J. Phillips, Kendall Gallagher, Derrick Whited and Parker Baynes. Schrepf stepped in to relieve Martin as pitcher in the sixth inning and closed out the seventh with three strikes in-a-row.
The Dolphins increase their overall season record to 7-6 with the win.