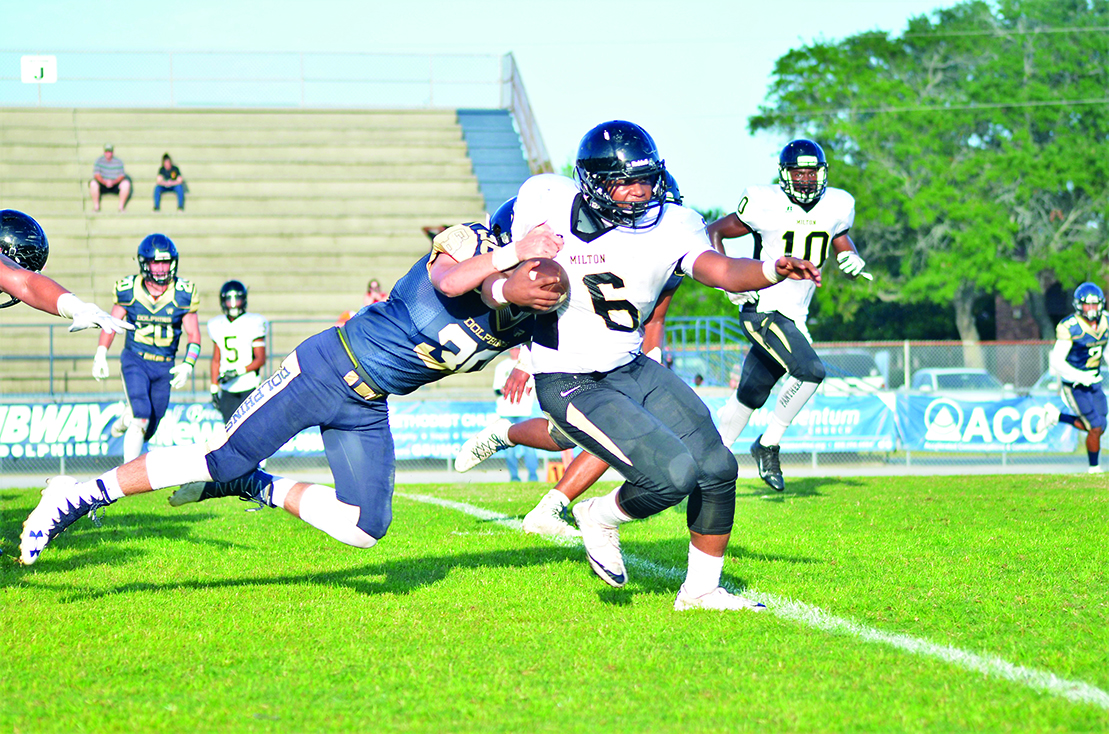 The Gulf Breeze High School football team secured its first win of 2017 against Milton High School in last Friday's spring scrimmage — heralding further success for the Dolphins in the regular season.
The Panthers traveled to Dolphin Stadium for the pre-season match — resulting in an intimidating start for first-year Panthers' head coach Harry Lees. It was announced Lees was taking over the head coach position in December, coming off of a seven-year span heading-up West Florida High School's football program. Lees takes control of a Milton team coming off the heels of a disappointing 2016 season that ended with an overall 3-8 record.
Head coach Bobby Clayton took the reins of the Dolphins last season and went on to lead Gulf Breeze on their most successful campaign of the past decade. Many of the key players on Clayton's team that helped propel the Dolphins into the 2016 Regional Quarterfinal have gone on to graduate, leaving starting positions like quarterback in need of replacement.
"A lot of these guys were juniors last year and they were here," Clayton said. "And what Tyler Phelps and Covell and Sheppard and all those guys did for the program — these guys were there and they're following, you know. I instilled that in them, 'Don't ride last year, make it about this year, let's work just as hard if not harder to be where we want to be,'" he said.
The Panthers looked much stronger against the Dolphins in the first quarter of Friday night's match-up than they did last season, but succumbed to the persistent Gulf Breeze offense in the second quarter. Milton was the first team on the board, completing a 40-yard touchdown pass to Marquise Mcroy on their opening drive of the game to put the Panthers up 7-0 before Carl Taylor answered for Gulf Breeze.
With 3 minutes left in the first quarter Milton intercepted a pass from junior quarterback Cooper Harris at the 10-yard line to bring an abrupt halt to a great scoring opportunity. The Panthers failed to capitalize on the interception with the remaining time on the clock, only moving the ball a few yards before the Gulf Breeze defensive line forced a turnover on downs to end the first quarter.
The second half of the scrimmage went all Gulf Breeze's way, doubling their lead 4 minutes into the second quarter with a 20-yard touchdown pass to junior wide receiver Spencer Segal. Taylor drove-in the final nail in Milton's coffin with a short rushing touchdown 6 minutes before the end of the scrimmage to bring the score to the final 28-7.
In preparation for the upcoming season, Clayton stated that he was going to be focusing on the weight room and conditioning, just like last year.
"I will tell you the same thing every year and when I stop telling you that kick me, because that is where we win and lose ballgames is in there pushing," Clayton said. "Like I tell them, 'It is a challenge in there every day in the weight room…
"We have eight weeks, there are no off-weeks in my program and they know that," he said. "They don't have any days off, so we'll start as soon as this game's over with and then on Monday morning we'll be hard at it."