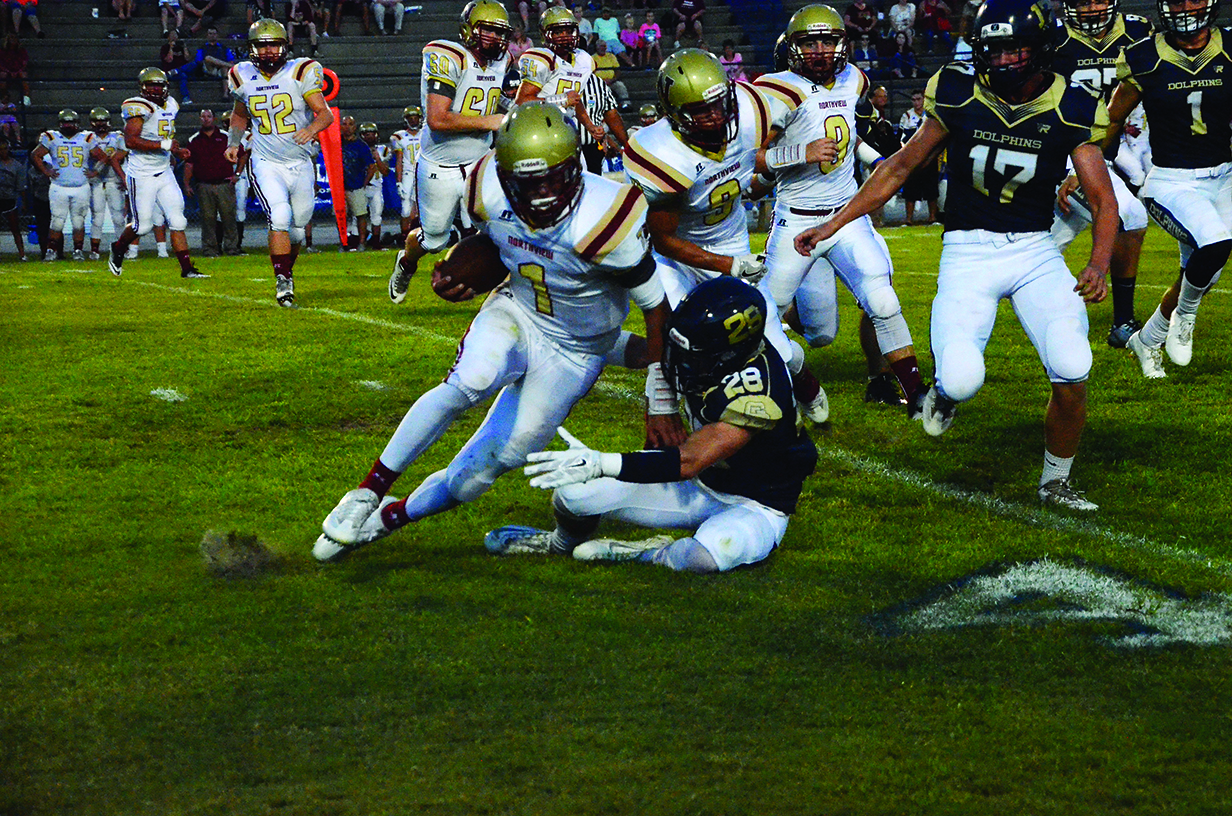 The Northview High School Chiefs failed to block Gulf Breeze High School's ambitions of a State-Championship run on Sept. 9 in the Dolphins' raucous 42-0 victory.
Gulf Breeze displayed a multi-threat offense in the shutout against the Chiefs, which rushed for 197 yards and was led through the air by senior quarterback Tyler Phelps — who threw for 160 passing yards. The class 1A Northview side struggled to find any momentum on offense against their 6A opponent and was only able to muster just less than 200 yards, roughly 33 percent of the Dolphins' total yardage.
The Gulf Breeze defense set the pace of the match from the beginning of the first quarter when Walter Yates III picked-off the Chiefs senior quarterback Luke Ward at the 10-yard line and returned it for 56 yards.
The turnover ended the dangerous field position Northview had found inside the Dolphin's 50 and set the offense up on the opposition's 30-yard-line. Phelps threw 5-for-9 against the Chiefs and found most of his success through the air to receiver Tristan Covell — who linked up with the senior quarterback for 134 receiving yards on the night.
After sophomore running back Tyler Dittmer gained 4 yards on the first carry of the game, Phelps fired-off a 25-yard pass that arced just over Ohijie Elliott's outstretched hands into Covell's for a first-and-goal inside the 5-yard line. Sophomore running back Carl Taylor smashed through the Northview's defensive line the following play to give Gulf Breeze the first touchdown of the game and a 7-0 lead with 7:51 remaining.
Gulf Breeze would not score again until the second quarter, when Dittmer bounced off of a couple of Chief tackles before breaking through the defensive line for a 49-yard rushing touchdown. The Dolphins stretched the lead to 28-0 with a couple of touchdowns from Covell — including a 60-yard pass from Phelps following an illegal procedure call that pushed the Dolphins back to their own 40-yard line.
At halftime Gulf Breeze honored its' 1986 football team for the 30th anniversary of the school's first district title, a feat that members of the current team have stated as a goal for this season.
Dittmer would put the game out of reach for Northview shortly after the start of the second half when he ran through the Chiefs lineman once again for a 2-yard touchdown, advancing the score to 35-0 after Spencer Wirth's extra point.
The only blemish that marked the Dolphins' performance was the nine fouls they picked-up during the match, something that senior Liam Gesler agreed the team needed to work on going forward. Gesler was instrumental at the line for Gulf Breeze, sacking the Chief's quarterback twice and tallying twelve total tackles for the night.