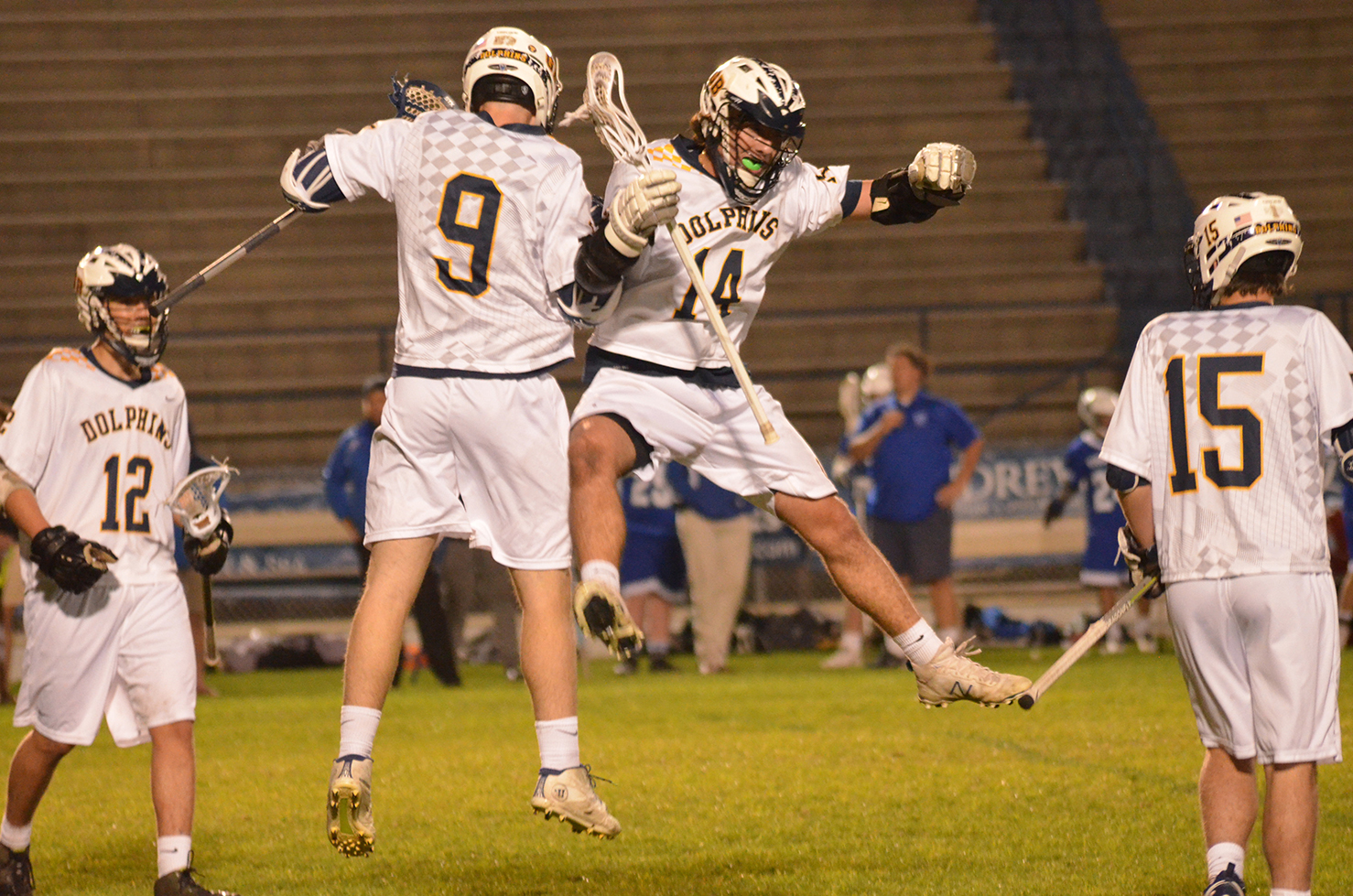 The Gulf Breeze High School boys' lacrosse team extended its unbeaten streak to 4-0 last Wednesday in an exciting 15-8 victory over district opponents Booker T. Washington High School.
The decisive victory came just one day after the Dolphins traveled to Escambia High School to open conference play against the Tigers and secured the first district victory of the season by a score of 18-6.
Washington seemed to surprise Gulf Breeze early on when they rebounded from being a goal down by threatening to equalize – holding possession on the Dolphins' end of the field for a solid three minutes in the first quarter while they passed the ball around the crease. Despite a strong showing in the first 12 minutes, Gulf Breeze pulled ahead 2-0 through great individual efforts on offense from Nick Daly and Jake Molina.
Thomas Berling nearly put the Wildcats on the board in the 12th minute when he collected a long pass from the backfield while he was in the crease and forced Dolphin goalkeeper Cole Foster to make a point-blank save — ending the first quarter 2-0. The second quarter continued to see both keepers make vital stops for their team, with each side tallying six saves for the goalkeeper on a combined 26 shots in the first half.
The Wildcats started off the second half with a much more aggressive offense, getting the ball to Will Heaney with 9:50 left in the third quarter. Heaney recovered the ball behind the Gulf Breeze net, bounced off of a defender's check as he wrapped the crease and fired a hard bounce shot passed Foster to bring the score to 3-1.
Jake Domschke scored his first of four goals about a minute later when he recovered a pass at the top of the crease and was left unmarked, taking advantage of the space he charged the defense and had enough time to slip a high shot passed Foster to cut Gulf Breeze's lead to a single goal.
Any momentum gathered by Washington in the early part of the second half was lost after the Wildcats were hit with a slashing call 5:30 minutes before the end of the third quarter. The situation resulted in a Gulf Breeze power play that the Dolphins were quick to take advantage of, passing the ball to Tucker Smith – who was left open at the top of the crease and fired a rocket into the back of the net to bring the score to 4-2.
At the end of the match, Gulf Breeze was able to overtake the Wildcats in the final quarter letting off 10 more shots throughout the match (34) and forcing twice as many saves (12) from Washington goalkeeper Garrison Reno Story.
Although Washington trailed Gulf Breeze at the end of the match, the team showed a noticeable improvement since last season when they lost the Dolphins by a much larger margin and didn't look nearly as organized — dropping matches 17-1 and 7-1 in the regular season.
Cole Foster spoke about the match after the win and said they were really just focused on stepping up to the challenges in the second half in order to pull ahead, but gave credit where it was due and admitted they were surprised at the talent of Washington's offense.
"We really pressed out our main defense, played hard bodies and quit chasing sticks [in the second half]," Foster said. "I feel like our offense really took control of the face-offs and wins — they had a great faceoff man at Washington, phenomenal player – but they just couldn't come up with the ground balls that we won a lot of the second half, great game."