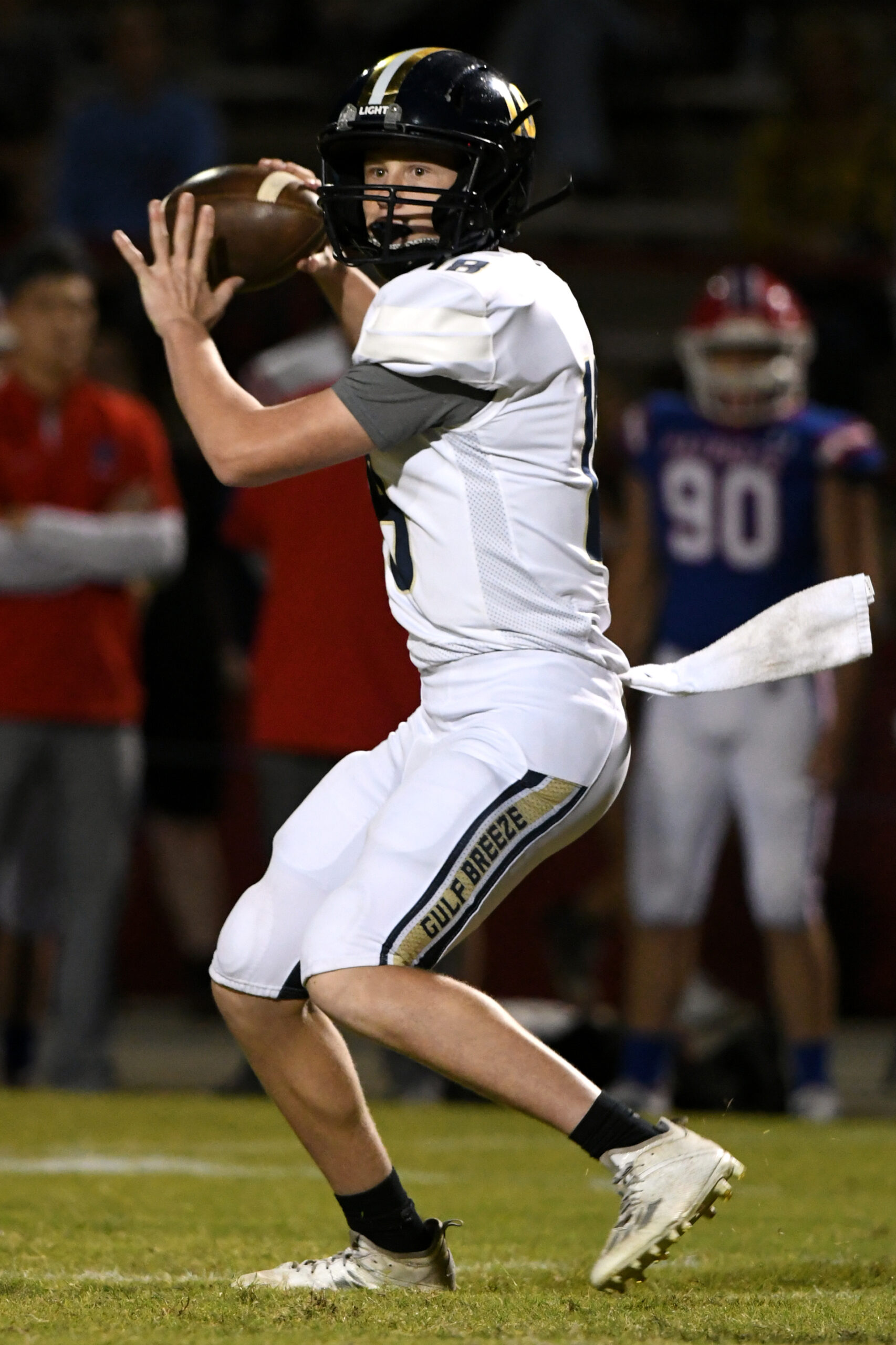 Battle Alberson and the Dolphins 'let it fly' against the Pace Patriots, including two 50-plus yard completions for touchdowns. Photo by Stuart Camp.
Six Gulf Breeze touchdowns – three by air, three by ground – fueled a 42-14 victory over the Pace Patriots.
The Dolphins own an unbeaten record five games in. This is their best start, at least going as far back as 2004.
Big plays defined the night for Gulf Breeze offense. None larger than Troy Coughlin's 75-yard touchdown run in the third quarter, which turned out to be the game-winning score. Then there was a Battle Alberson-to-Bryson Rouillier 69-yard pass play for six points. And Alberson hit Carson Hepworth on the fly for a 56-yard TD. One huge play – a 74-yard connection with Brock Clayton – set up a 10-yard rushing touchdown by Alberson.
In short, they let it fly.
"We knew going into the game, their guys couldn't hang with our guys," the Dolphin quarterback said. "We knew we were going to expose them, and that was the plan."
The defense was equally dominant. Although the Patriots managed two scores, Gulf Breeze all but took away Pace's running game. Pace quarterback Nate Simmons – the team's second leading rusher – literally carried the offense in the second half.
"Big-time players made big-time plays," defensive lineman Shamane Walker said, who drew double-teams many plays. "If it takes two people to block me, then that means my linebackers can run through the gap freely and make the tackle."
The Patriot offense's engine, up to this game, was a running attack led by T.J. Haynes. He rolled up 521 yards on 62 carries in three games. He was stuffed, a lot, against the Dolphins. And their aerial attack had only 236 yards this season.
"Last week, we had to play pass. This week we had to play run. Our defensive staff put a game-plan together … make 'em get into a passing game, they're not comfortable doing that," Gulf Breeze head coach Bobby Clayton said. "That's what we did. Load the box and dare 'em to throw it."
And Pace's head coach Kent Smith said the Dolphins were dominant. "They whipped us in every facet of the game," Smith said. "We were just not consistent in the first half running the ball."
Gulf Breeze moves on to face unbeaten West Florida (4-0) on Oct. 8. The Jaguars took out Booker T. Washington 35-14, putting the game away early with pairs of rushing and passing touchdowns in the first half. West Florida lights up the scoreboard, hanging 151 points in those four victories, including a 44-0 judgement against the Tate Aggies.