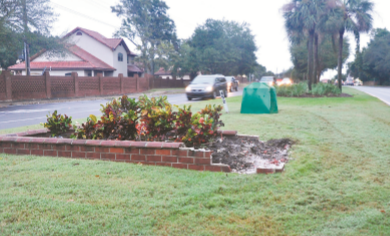 A motorist, who admitted to drinking alcohol, was to blame for knocking out the City of Gulf Breeze digital reader board early Monday morning. This was the second time in a little over two years that a person driving under the influence took out the sign. Back in April 2013, a drunk Gulf Breeze driver hit the sign. The driver only caused damage to the wooden frame of the reader board, and did not damage the electronic sign. This time, however, a driver took out both the frame and the digital sign itself. According to the accident report, Savanna Ferrer was heading southbound on Hwy. 98 approaching the sign when she ran off of the road and hit the sign. The impact caused Ferrer's vehicle to roll several times. The front left of Ferrer's vehicle hit the sign, destroying even the brick border that was put up around the sign. The report indicated that the driver thought she had fallen asleep behind the wheel, and she felt the alcohol had "contributed to her drowsiness" according to the accident report. The report indicated there were no witnesses. City officials took down what was left of the sign at around 8 a.m. Monday morning. City Parks and Rec Director Ron Pulley estimat
ed the damage to the sign to be somewhere in the ballpark of $31,000. All of which, he said, might be covered by the driver's insurance. The accident report indicated the driver could not show proof of insurance when questioned by police. "The claim has already been filed with the vehicle owner's insurance company," Pulley
said. "The previous times (the sign) was hit, the driver was uninsured." When the sign had been hit in the past, Pulley said the city's casualty insurance had to foot the repair costs. The $31,000 price tag includes the digital sign itself, the wooden frame and the brick border around the sign.