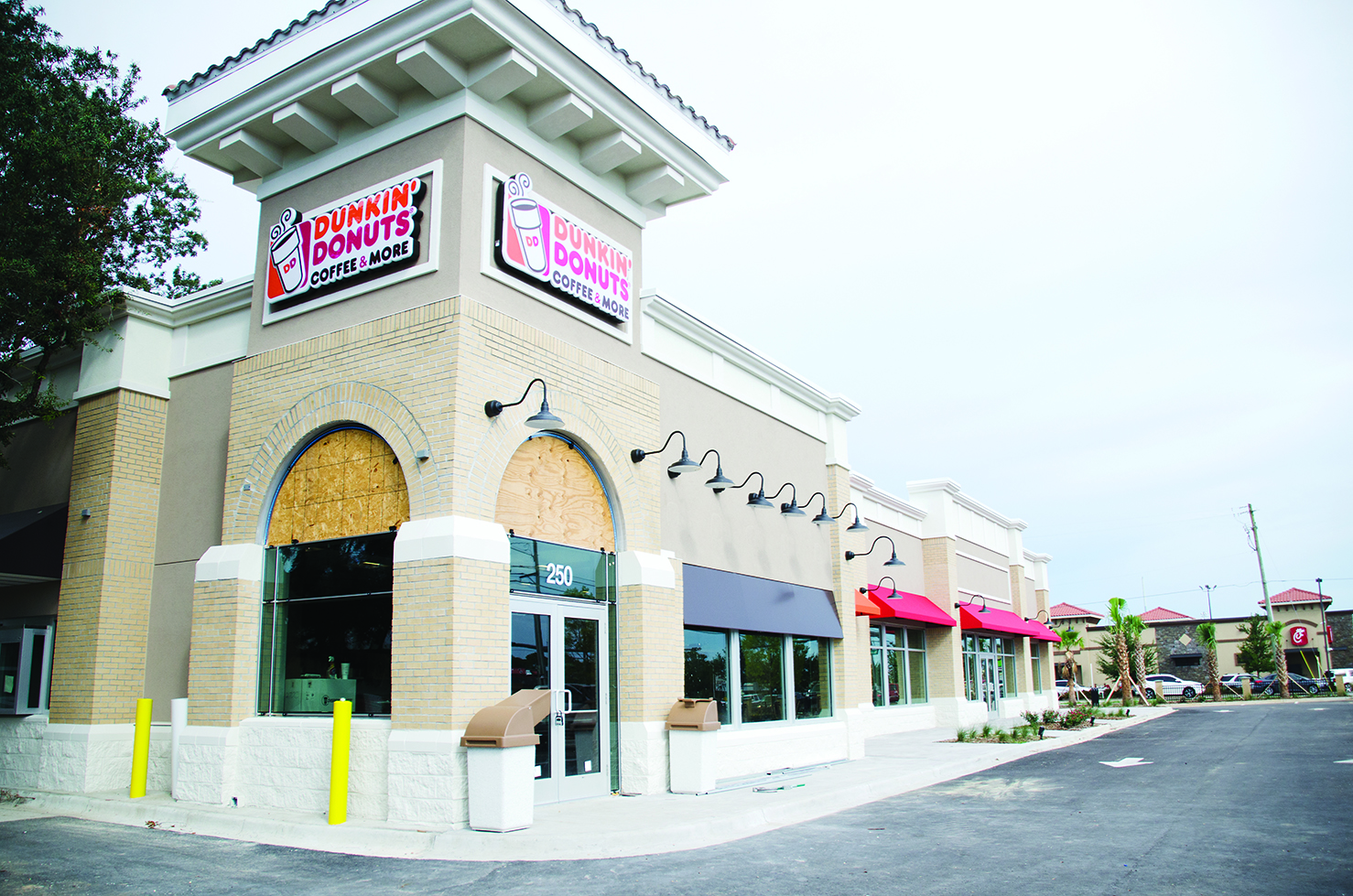 Locals rejoice! The Dunkin' Donuts in the City of Gulf Breeze is now open!
South Santa Rosa News was notified by Dunkin' Donuts representative Shelly Kriviski that the location was set to open this coming weekend. However, the sweet shop, located across from the Exxon Gas Station in Gulf Breeze Proper, ended up opening a week early.
The donut shop had been under construction inside of a newly developed strip mall at the corner of U.S. Highway 98 and Northcliff Drive over the past several months and was getting its final touches last week prior to its grand opening.
Last June, the Gulf Breeze city council gave developers the OK for construction of the strip mall that houses the Dunkin Donuts, along with an AT&T cell phone store and Mattress Firm. The strip mall in total is close to 8,000 sq. ft. in size.
The Dunkin' Donuts location is approximately 1,977 sq. ft. in total and will seat 21 people.
The grand opening came with some perks.
"To celebrate the grand opening, the restaurant will host a grand opening celebration where the first 25 attendees each day will receive a free coffee for a year coupon book," Baddock said.
Grand opening festivities also include product samples, photo opportunities with Dunkin' mascots Cuppy and Sprinkles, travel mug giveaways (while supplies last) and much more.
Additionally, the restaurant offered guests a free small Hot or Iced Coffee during their grand opening.
The location has 15 crewmembers in total and will be open 7 days a week from 5 a.m. to 9 p.m.
The location will offer free Wi-Fi and a flat-screen television for guests to enjoy their food and beverages in a fun atmosphere.
"Dunkin' Donuts is one of the world's leading brands and we are thrilled to open our very first restaurant in Gulf Breeze," said Vik Patel, Purple Square Management Company. "We are proud to serve the people who live and work here, and look forward to becoming a popular destination for guests."
Purple Square Management Company is Dunkin' Donuts franchise partner in Gulf Breeze and currently operates 37 Dunkin' Donuts restaurants in Florida and 44 total including restaurant locations in Louisiana and Alabama.
And for those who aren't familiar with Dunkin' Donuts' menu, Baddock said there are plenty of options for anyone craving something sweet or salty.
The menu, created by Dunkin' Brands culinary team, features hot and iced coffee, lattes and cappuccino and new menu products such as the Maple Sausage Breakfast Sandwich and Cold Brew Coffee.
For years, the city has gone back and forth with the developer on the construction of the strip mall at the busy Gulf Breeze Proper intersection. Most of their hesitation was due to traffic concerns at the Northcliff Drive intersection, where motorists typically utilize the street to access the Neighborhood Walmart and Chick-fil-A restaurant. Their other concern was whether the developer's vision for the property would fall in line with the Community Redevelopment Area's architectural standards.
Dunkin' Donuts will have a cell phone store as one of its neighbors, along with a Mattress Firm, both of which are expected to open soon.
The parking lot for the strip mall will have approximately 40 parking spaces and motorists will be able to access the strip mall via Northcliff Drive and Live Oak Street. Sam Marshall Architects out of Pensacola was chosen at the developer for the project.
Dunkin' Donuts, whose home office is based out of Canton, Mass. has more than 10,000 locations worldwide, including one in Pensacola.
Traffic studies were done on the intersection before the strip mall was constructed to ensure the intersection could handle the additional watering mouths, according to Gulf Breeze City Manager Edwin "Buz" Eddy.
"Traffic is going to be bad," Eddy told South Santa Rosa News back in February. "But we didn't have anything where we could stop the development."