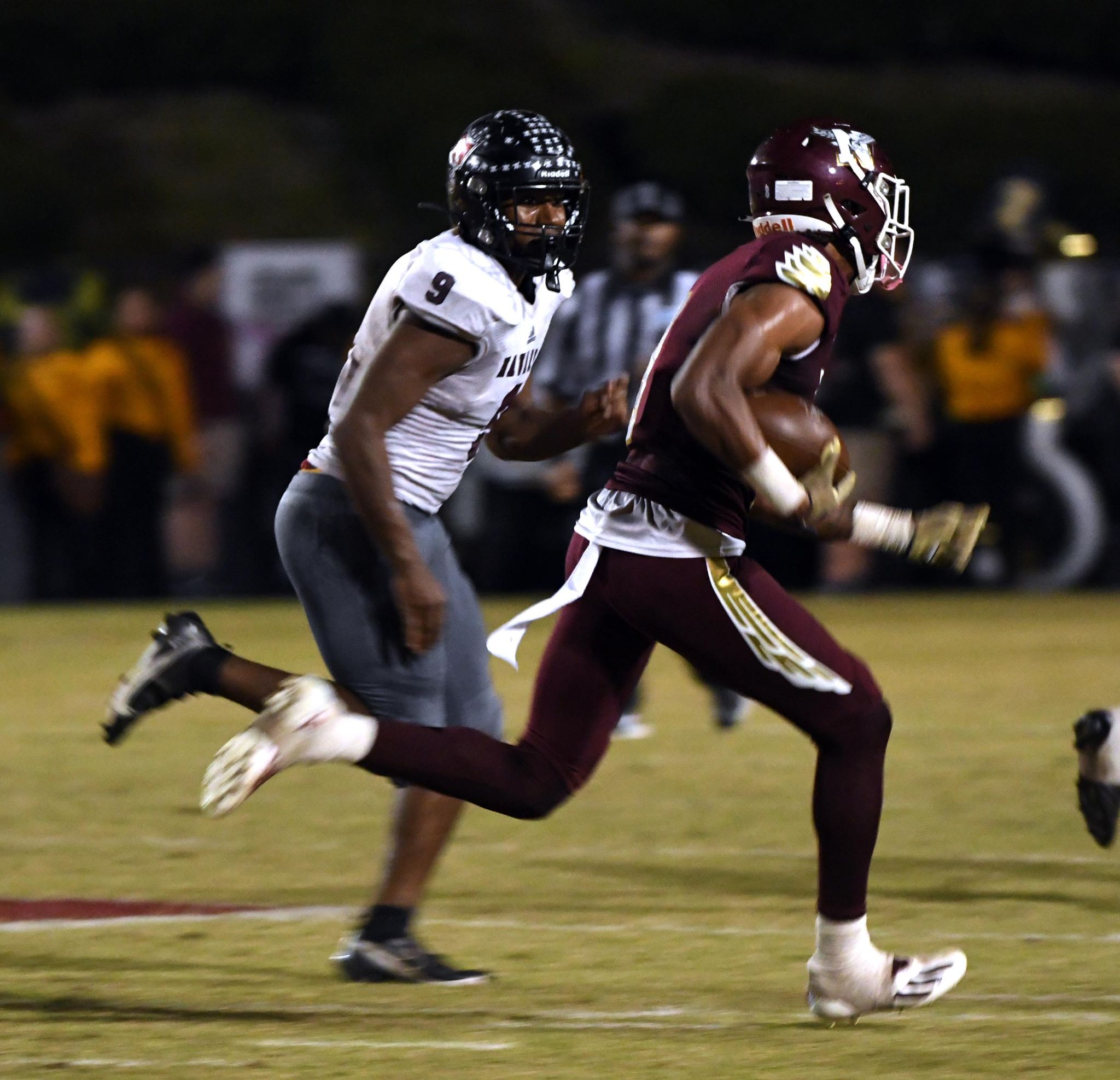 Raider linebacker Christian Caballero pursues Niceville's Azareye'h Thomas. (Photo by Stuart Camp)
Niceville's two first-quarter touchdowns turned out to be enough Friday night to turn away the Navarre Raiders, 31-9. Albeit, for one brief moment early in the third quarter, Navarre appeared to take a 15-14 lead on a muffed punt by the Eagles returner. The officiating crew explained the rules negated the touchdown, and then Niceville went on to put the game away.
"That was a killer," Navarre head coach Jay Walls said. "I wish they would've gotten it wrong for just a few more minutes." Raider quarterback Kyle Chambers endured constant pressure in the pocket, and Eagle defenders knocked down several passes.
"They were sending a lot of blitzes, and we were missing assignments (blocking)," Chambers said. "We played an OK first, second, and third quarter. But our fourth quarter just didn't do anything. We just need to make sure we're stepping up in all four quarters."
One of the players consistently in the Raider backfield was Eagles outside linebacker Khalil Jacobs. He batted down one pass and recovered a Raider fumble.
"We were just flying around, getting to the ball, and causing turnovers," Jacobs said.
The Raiders managed a few monstrous plays. Very late in the first half, Chambers hit Terence Marshall on a crossing pattern that put Navarre on the one-yard line. On the next play, a quarterback sneak behind the offensive line hit pay dirt for a 14-9 deficit going into halftime.
But keeping the pocket stable and opening holes for a consistent running attack appeared to be a struggle for Navarre's offensive line.
"We had good effort, it was just little mistakes and that caused big plays to not happen," Navarre center Eric Meraz said. "We drove the ball good in some drives, but we couldn't figure out a rhythm."
Both teams had two fumble recoveries, but only the Eagles converted both of theirs into points.
"We had a great game plan," Niceville head coach Grant Thompson said. "We threw the ball on the ground way too much for a championship team. You can't do that. We created some turnovers, which is good. We've got to take care of the football." Eagle quarterback Addison Moore and Azareye'h Thomas kept the ball moving downfield. Thomas scored a four-yard rushing TD with second remaining in the first quarter, which proved to be the game winner.
The victory almost guarantees a district championship for Niceville, as the Eagles are 8-1 on the season and 3-0 among district opponents. They head to Tate (1-7) next week. Navarre, on the other hand, will host the Crestview Bulldogs (6-3). The Bulldogs edged the Patriots 27-26 on Friday, which put them second in the 1-7A district. The Navarre matchup will be Crestview's final game of the regular season. According to Walls, this game is a must-win if the Raiders hope to secure a spot in the postseason.