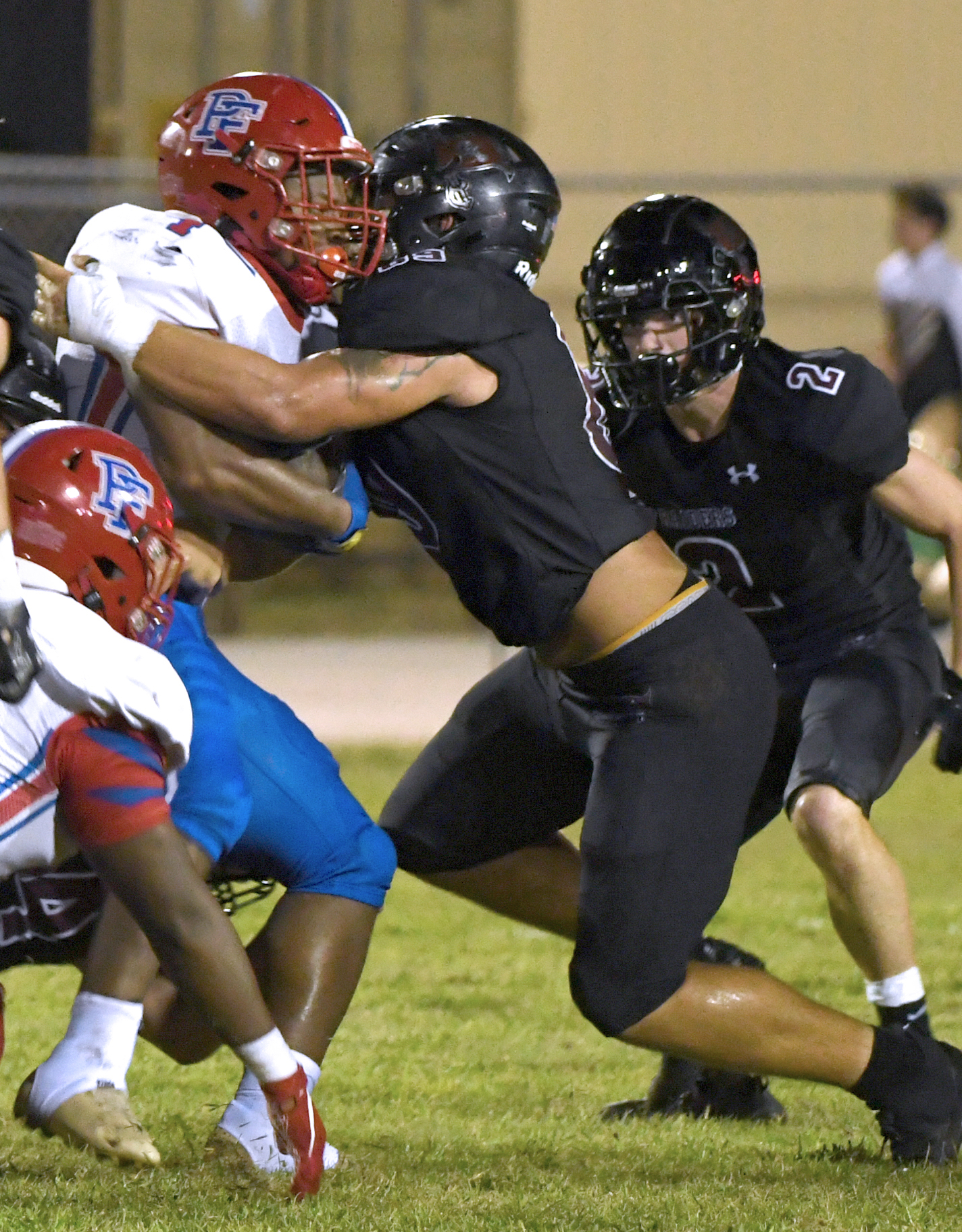 Terence Marshall tore through the Pine Forest special teams on the opening kickoff, putting Navarre up 6-0. (Photo by Stuart Camp)
Two special teams' plays put points on the board against the Pine Forest Eagles, but Navarre couldn't budge their opponents from their perch. Pine Forest rolled to a 39-9 victory Friday in Russell Stadium.
The home crowd got an early surprise when Terrence Marshall fielded the opening kickoff, wove through the Eagles would-be tacklers and outsprinted everyone along the left sideline for an 80-yard touchdown to give the Raiders a 6-0 lead just 15 seconds into the game.
And then the top ranked team in Florida's class 3 Suburban got to work. The Eagles drove their first possession 55 yards for their first touchdown, capped by a three-yard running blast behind the left guard by Zhimer Brown. For the rest of the first half, Navarre could march on Pine Forest's defense, but they couldn't find pay dirt when the field was compressed.
"We had the momentum with the first play, kickoff return. From there it just kind of went downhill," Raider head coach Jay Walls said. "We were in the red zone, at least five times, and we came up with no touchdowns. We felt like things were there."
After suffering an early blocked field goal attempt, Kicker Taylor Gardner knocked through a chip-shot, 28-yarder mid-way through the second quarter, but the game was clearly in Pine Forest control at that point. The Eagles walked into halftime 26-9, and then they drove the second-half kickoff in for additional distance on the scoreboard. They added a final TD well into the fourth quarter.
"We had success running the ball and some success throwing. But we were just very inconsistent, and they (Pine Forest) forced a lot of that," Walls said. "A lot of the stuff we game-planned for worked. Defensively, it's hard to simulate the veer, and they're really good at it."
Passing against the Eagles proved costly. Hunter Pfeister threw two interceptions on developing drives, and defenders batted down or broke up near-completions. However, the running attack found openings up Pine Forest's gut to keep the chains moving.
"I had a lot of success with the inside zone plays, running up the A-gap, and following my blockers," said Raider running back Eddie Love Jr. "I was seeing some things (early), and then they would clog the holes."
Defensively, Navarre limited ground gains, stuffing the Eagles' big backs at or near the line of scrimmage. But there was no significant up-field penetration to pressure Pine Forest quarterback Tierra Wilson. Senior defenseman and team captain Kiohne Moso shouldered responsibility, saying the defense came out flat.
Pine Forest's Jonathan Daniels led an offensive line that protected the Eagle backfield.
"We kept pushing," Daniels said. "From what I saw on film, I thought they were going to bring more power. We came out here and did our job."
The Eagles' head coach prepped his squad all week for the physical battles for which Navarre is known.
"I didn't know if we'd be physical enough," Ronnie Douglas said. "These guys (Raiders) are coached well. So, I didn't know if we could match up with them, and what would happen."
"Navarre's a good football team, and they'll do well."
Pine Forest is state title-hunting, and they'll play at home against the Pensacola Tigers this week. Navarre travels to Tallahassee for a rumble with the Rickards Raiders (0-2). Rickards took a mighty wallop from Fleming Island (2-0), 51-20, Friday night. Both Raider teams will be looking to right the ship and fill their sails.