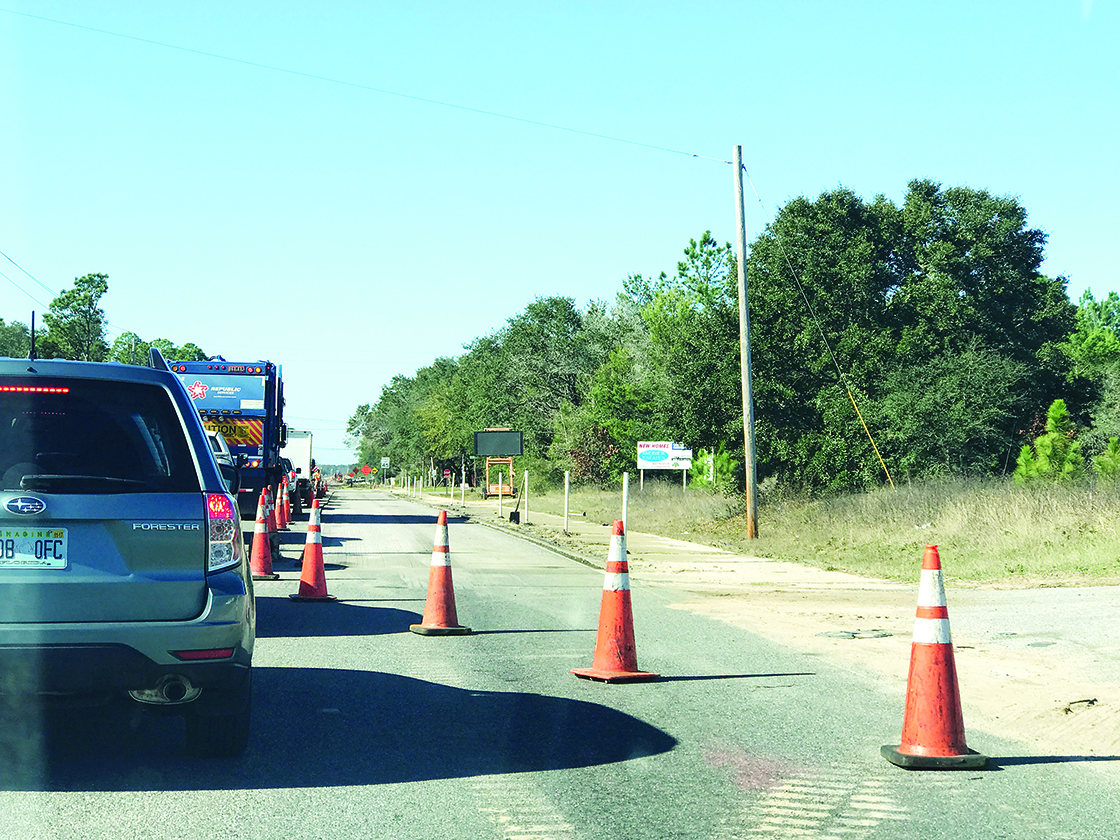 It's been over a month since resurfacing work began on a 4.5-mile stretch of East Bay Boulevard in Navarre, which is a popular cut through for motorists who want to avoid traffic on U.S. Highway 98.
Road crews with Panhandle Paving and Grading, Inc. milled off a single layer of pavement on East Bay Boulevard from Highway 87 South to King Bayou Bridge and abruptly left before laying down pavement.
Back in January, South Santa Rosa News was told by the county's Public Works department that the already delayed project would take 3 to 4 weeks to finish (just the paving portion). But road crews with the county's contracted paver milled the road for a week and then disappeared. But Santa Rosa County Public Works Director Stephen Furman said there's a reason why they left: priorities.
According to Furman, just as they started work on SR399, they were called out to a Florida Department of Transportation (FDOT) job in Escambia County, which took priority over the county project.
"Because their contract is based on per ton of asphalt, we work with them to get the best bang for our buck," Furman said. "The contractor had other obligations with DOT. The delays are not because of the contractor. This other job (in Escambia County) took priority over East Bay Boulevard."
In other words, because Panhandle Paving and Grading gives the county such a good rate on asphalt as compared to other entities like FDOT, they typically give bigger projects that pay out more, more attention than county projects.
"We work with the contractor to get the most bang for the taxpayers' money," Furman said. "They give us a good rate on the asphalt so we are flexible with them…and it saves the taxpayers money."
Originally, the 4.5-mile long project was supposed to start last November, but the date was pushed back to January due to other projects Panhandle Paving and Grading were juggling.
But the end is in sight, according to Furman.
"They are wrapping up the project in Escambia County this week and are expected to start back up on East Bay Boulevard on Monday," Furman told South Santa Rosa News this week. "They are going to re-mobilize and get back to work. They are expected to have paving done in about 2 to 3 weeks, depending on the weather, of course."
Panhandle Paving and Grading is being paid $1 million to complete the project and are expected to mill away a layer of asphalt (which they've already done in the east and westbound lanes of SR399) and then put down a layer of rock, and then a sand/asphalt mix which they will pave on top of as a crack relief.
Residents took to Concerned Citizens of Navarre on Facebook this week to voice their opinion on the slow work, but Furman said that the delay isn't on purpose and that the county is utilizing the half-penny sales tax to complete this project, so they want to stretch their dollar as much as they can.
"We have a symbiotic relationship with the contractor. They give us a low price per ton on asphalt…and sometimes they have other obligations," Furman said. "I pay taxes in this county, like a lot of people do, and I know I want to see my tax dollars go further."
Crews still have to come in and mill the turn lanes on SR399 and will then come back and pave afterwards. Then, the county will wait roughly a month and come back and paint the lines on the roadway and flush out the shoulders on the roadway.
"They are only doing the milling and paving portion. The county is painting the lines and cleaning up the shoulders," Furman said.