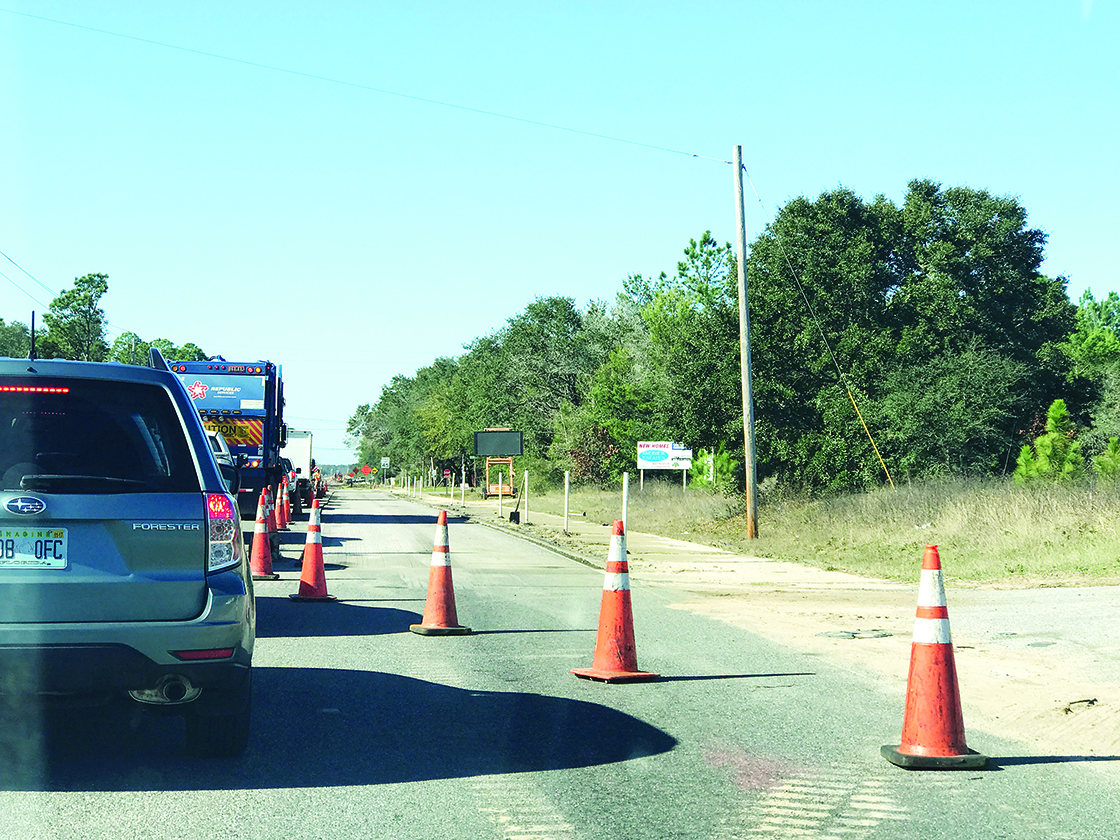 Work has already begun on a 4.5-mile road resurfacing project in the south end of Santa Rosa County, which is expected to cause traffic delays over the next several weeks.
The county's paving contractor, Panhandle Grading and Paving, Inc. started work on a $1 million paving project on East Bay Boulevard in Navarre on Monday, and road crews have already milled up a portion of the westbound lane.
Santa Rosa County Public Works Director, Stephen Furman said the contractor will mill, put in crack relief, and repave from Highway 87 South in Navarre to 50 feet beyond King Bayou Bridge on East Bay Boulevard.
Furman said this isn't your typical repaving project as the county wants to take extra precaution to make sure this new layer of asphalt lasts.
"When you're talking in generic terms, we call it resurfacing…but it also entails milling off a layer of old asphalt," Furman said. "We're milling off one layer so the roadway doesn't get higher and higher as we go. They are also going to come in with crack relief. So they will mill it and put a rock down on it and then a sand/asphalt mix."
The crack relief, Furman said, will help the roadway last longer. The director said because of these extra steps, the paving part of the project should last 3 to 4 weeks, depending on the weather.
"They (contractor) can't make and lay asphalt if it's super cold outside. So that timeline is dependent on weather," Furman said.
The project was originally supposed to start at the end of last November, but unseen circumstances pushed it back another month.
"We had every intention, and the contractor had every intention to start paving in late November, but due to circumstance beyond anyone's control and weather conditions, mechanical problems, the holidays, we elected to not try to disrupt the process," Furman said. "Even though (Commissioner Rob) Williamson had been assured by me that we would start by the first of the year, it was not feasible for them to start until this week."
Despite the delay, Williamson said he was glad to see the project starting.
"It is great to see our tax dollars working to improve one of our county's busiest roads," Williamson said.
The county is expected to dish out $900,000 to Panhandle Grading and Paving for their work, but is expected to also dish out an additional $100,000 or so to re-stripe the roadway once it's repaved.
"We can't re-stripe the roadway right after it's paved," Furman said. "We have to let the asphalt compact for 30 days before we put the final coat of reflective paint on the roadway. But during that (waiting period), we'll come in and re-work the dirt on the shoulders."
The portion of the roadway that's being paved is often plagued by potholes following any heavy rain, and the county has done it's best to temporarily fix the holes.
Furman said that based on the current 5-year plan for county roadways, there is mention of repaving Highway 87 South in its entirety through Gulf Breeze to U.S. Highway 98.
"With the recent enactment of the extra gas tax pennies, I'm confident we're going to tackle some of these roads on this 5-year plan, including East Bay Boulevard. It's very much a living document," Furman said. "In year 4 (three years down the line), if we have money or the money becomes available, the rest of (East Bay Boulevard) could be repaved."
But Furman said it's too early to tell, and the work plans are sometimes altered.
"We have it down as a project in Year 4 (in three years)," Furman said.