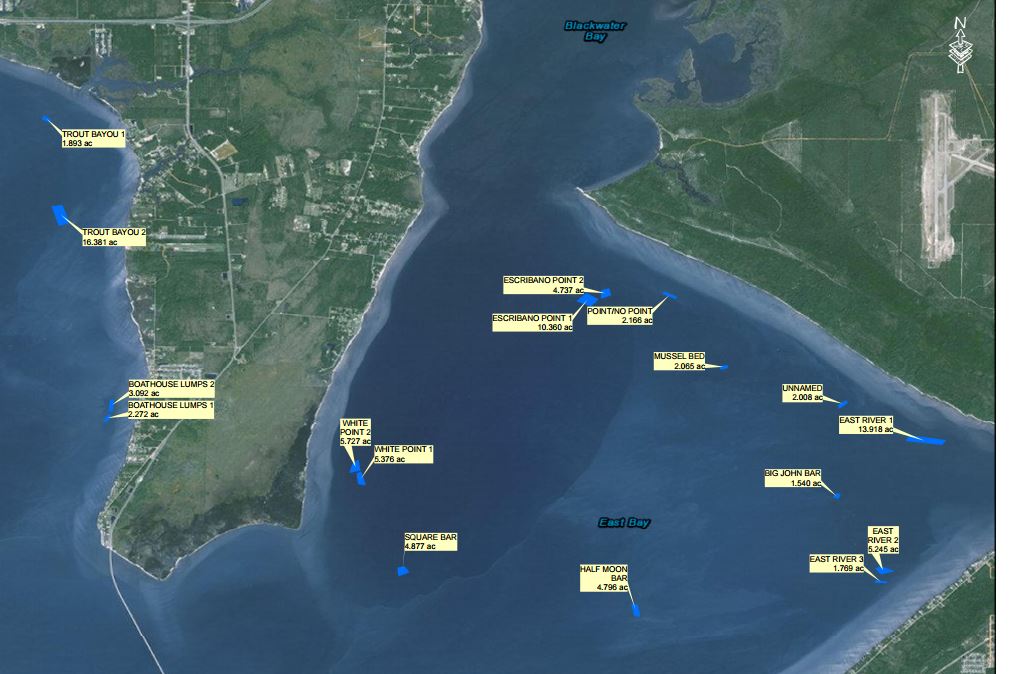 Around a dozen oyster reefs in East Bay were recently restored through 2010 Deepwater Horizon Oil Spill recovery funds.
The $5.3 million Oyster Cultch Placement Project is aimed to enhance and improve oyster populations in Pensacola Bay, St. Andrews Bay and Apalachicola Bay.
And from September 24 through October 2, about 20,103 cubic yards of lime rock aggregate were deposited onto 17 oyster reefs for the setting of native oyster larvae and oyster colonization.
A total of 88 acres were planted in the Pensacola Bay System in Santa Rosa and Escambia Counties using high-pressure water cannons to blow the material to the selected planing sites.
According to Santa Rosa County, planting locations included Escribano Point, where several other oil spill funded initiatives are beginning to take shape.
Additionally, The Nature Conservancy (TNC) was awarded a $1.5 million grant to provide three years' worth of pre-restoration monitoring, project design and permitting for 6.5 miles of coastline along Escribano Point Wildlife Management Area in East and Blackwater Bays.
As a support element of TNC's project, Santa Rosa County allocated $300,000 of its RESTORE Act funding to TNC for implementation of an oyster shell recycling program, community outreach and oyster reef habitat mapping.
"Oysters and the reef habitat they form are vital for the health and well-being of our environment, economies, and communities throughout the Gulf of Mexico," said Anne Birch, marine conservation director for The Nature Conservancy in Florida. "The state's restoration of oyster habitat in East Bay will help boost the oyster fishery economy and complements The Nature Conservancy's East Bay project to restore essential oyster reef habitat for species such as fish, crabs and birds. Together we are working to restore this habitat for both nature and people."