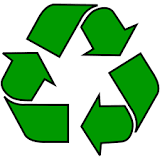 Effective April 30, ECUA will terminate their contract with Santa Rosa County for the transportation and processing of recyclables.
County officials say they are working with ECUA on a new contract for processing and seeking to replace the transportation services within the next few weeks.
Recyclable material degrades if not sorted and stored properly, therefore recycling will be diverted to the Central Landfill for disposal until a new transportation vendor is under contract.
The county encourages residents to maintain good recycling habits and as part of the franchise agreements with the county all waste haulers will still be required to collect recyclables separately, so residents will see no change in their existing services.

Recycling programs in many municipalities have struggled due to increased costs for transportation and processing combined with a limited number of markets since China recently stopped accepting the US's recyclables.
"While Santa Rosa County fully supports recycling, significant changes may need to be made to provide a sustainable recycling program in the future," stated a release.