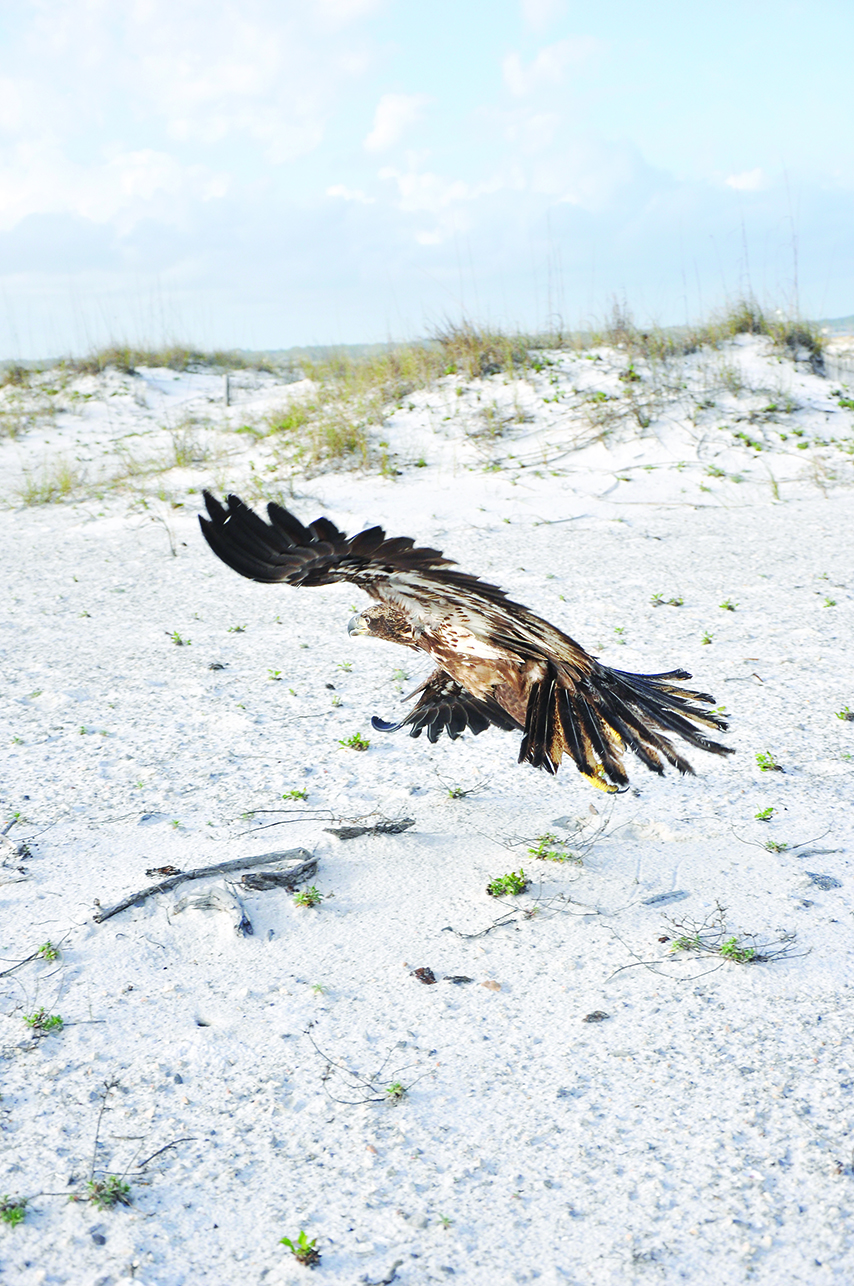 This was a special week for the Emerald Coast Wildlife Refuge.
Yesterday (after South Santa Rosa News went to press), the non-profit agency found out from Santa Rosa County commissioners if they had approval to build on a 2.28 acre parcel of property in Holley as a future sight for the agency's new rehab facility/education center.
And on Monday, the agency released a juvenile Bald Eagle into the wild after it was found on the side of the road near the main entrance to Holley By The Sea a week prior.
Numerous volunteers, including Hodge Cherry, the ECWR Assistant Director, were on hand at the release ceremony, which took place in the Gulf Island National Seashore on Navarre Beach.
"We're releasing all of the time during this time of year. We especially do a lot of birds of prey this time of the year," Cherry said.
The agency thinks the Bald Eagle was struck by a vehicle, but isn't necessarily positive.
"It was found on the side of the road outside of the Holley by the Sea subdivision. We assumed it got hit by a car. One of our volunteers got it immediately and took it to our refuge. It was in our care for about a week and was given fluids, and we tried to get it back to normal," Cherry said. The volunteer said the bird was rehabbed quickly, and only suffered one life-long injury: a chip to his beak.
"That's not really going to affect him in the wild at all," Cherry said. "It's one of our success stories."
Cherry said the agency typically gets a lot of injured bird calls this time of the year and that some heal and react differently under their care.
"Birds of prey can stress out a lot under our care, but this guy did pretty well," Cherry said. "We got him as healthy as we can. We're interested in rehabbing them, getting them healthy and getting them out the door."
Baby animals that are found either in a yard or on the side of the road also keep the rehab center full this time of the year. But Cherry said not all babies are the same.
"A lot of people find those animals and think they are doing the best for them, but usually we want them to call us. Whatever that animal is probably had a family they took it away from. We are inundated with babies that could have possibly been just fine if they were left alone. We want to definitely take in orphaned or injured animals. So if you see an injured or orphaned animal, call us," Cherry said.
If the site plans for the new home of ECWR are approved by commissioners, the non-profit will move forward with building their new home on Cloptons Circle in Holley, which will house an education center, a medical/rehab center and a Marine Mammal Center.
ECWR will start construction on the rehab/medical facility first and then move forward with two other phases of the site once funds become available.
In Phase 2, the agency will construct an education center where anyone can come and learn about what the agency does.
In Phase 3, the organization has plans to build rehabilitation pools for sea turtles and dolphins, which they are calling their Marine Mammal Center.