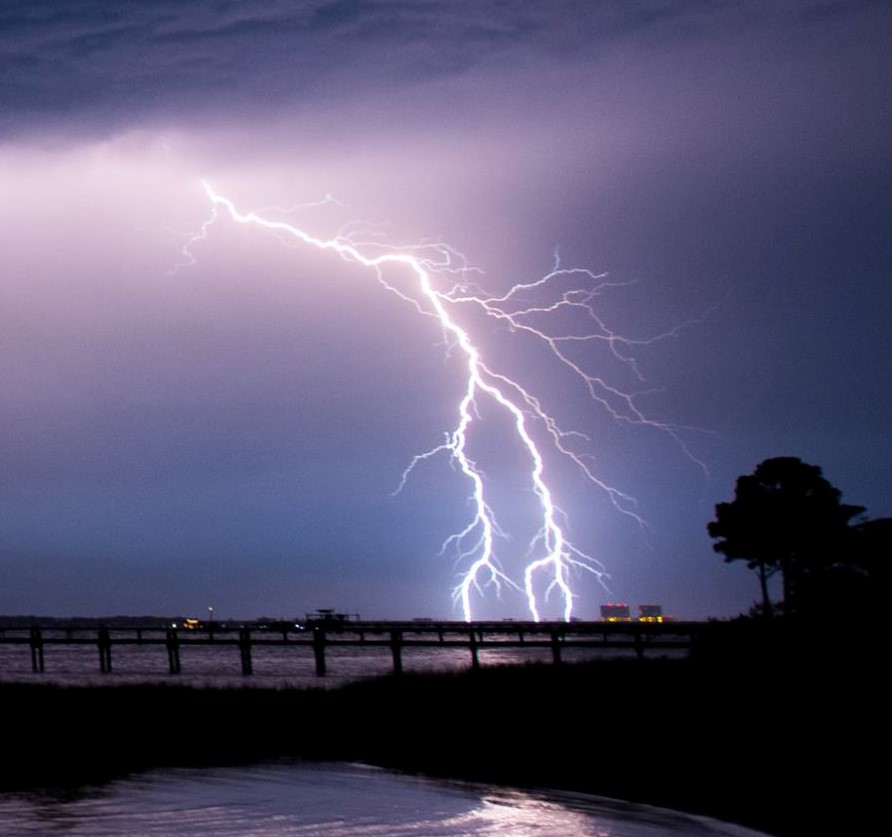 Photo of lightning at Santa Rosa Sound in Navarre courtesy of Kimberly Herold, Inspired Light Photography
A Kentucky man camping with his family died Tuesday morning after being struck by lightning outside his tent at the Wilderness Landing Campground off Corduroy Road in Baker.
Jeremy Harper, 35, Cloverport was camping with eight others in his family, including six children ranging in age from 15 months to 13 years old.
It's believed lightning hit a tree beside him and knocked him to the ground during a thunderstorm around 7:30 p.m. on Monday.
Thankfully, no one else in his group was injured.
Harper is the fifth person in the U.S. to die as a result of lightning this year.
Three of the five deaths have occurred in Florida, which is known as the lightning capital of the U.S., producing the most deaths due to lightning, per University of Florida research.
According to a NOAA March 2017 analysis of lightning deaths in the United States over the decade from 2006-2016, 352 people have been struck and killed by lightning.
"June, July, and August are the peak months for lightning activity across the United States and the peak months for outdoor summer activities. As a result, more than 70 percent of the lightning deaths occurred in the months of June, July, and August, with Saturdays and Sundays having slightly more deaths than other days of the week," noted NOAA Lightning Safety Specialist John S. Jensenius, Jr.
"Almost two thirds of the deaths occurred to people who had been enjoying outdoor leisure activities. The common belief that golfers are responsible for the greatest number of lightning deaths was shown to be a myth. During this 11-year period fishermen accounted for more than three times as many fatalities as golfers, while beach activities and camping each accounted for at least twice as many deaths as golf," said Jensenius.
Jensenius reported that of sports-related deaths, soccer had the most with 12, compared to golf, which had nine.
Work-related deaths in the ranching and farming industries added up to 17 deaths, mowing the lawn accounted for 14 fatalities and with respect to water-related activities, fishing ranked highest with boating and beach activities also contributing significantly to fatalities count.
Emergency management officials warn that as soon as you hear thunder you need to take action.
According to the U.S. National Weather Service, the threat of lightning can extend 10 miles from a storm.
So keep a watchful eye on the sky and monitor weather forecasts.
If you can hear thunder, you are close enough to be struck by lightning. Stay inside a building or vehicle for at least 30 minutes after you hear the last clap of thunder.
"Based on the media reports of the fatal incidents, many victims were either headed to safety at the time of the fatal strike or were just steps away from safety. Continued efforts are needed to convince people to get inside a safe place before the lightning threat becomes significant. For many activities, situational awareness and proper planning are essential to safety," said Jensenius.
Remember – -when thunder roars, go indoors!
Did you know?
Males account for about 79 percent of all lightning fatalities*
Lightning can be five times hotter than the surface of the Sun and reach temperatures around 50,000 degrees Fahrenheit**
Lightning strikes the U.S. around 25 million times per year – mostly during summer**
Lightning travels at the speed of light — 186,000 miles per hour****
An average of 47 people die each year and hundreds more are severely injured from strikes**
Lightning often strikes the same place repeatedly if it's a tall, isolated object***
Crouching doesn't make you safer, run to shelter
A single bolt of lightning can discharge about 100 million bolts of electricity and travel as far as 10 miles from a cloud****
*John S. Jensenius Jr., Lightning Safety Specialist, NOAA
**NWS data *** NOAA data **** University of Florida data