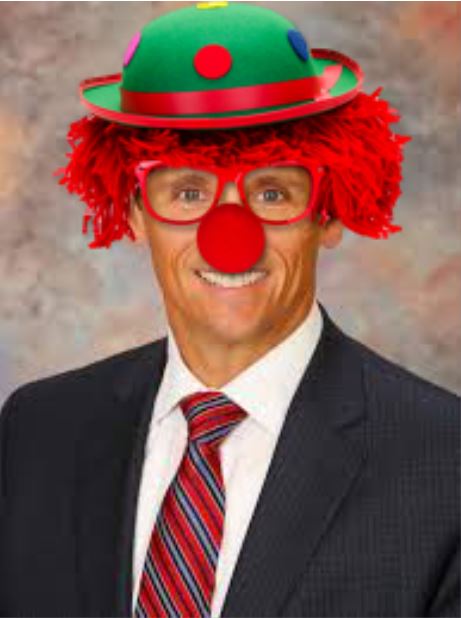 Looks like Santa Rosa County Administrator Dan Schebler has told another whopper!
Not only did Schebler twice deny that the county failed to submit paperwork for state road money, claiming the lack of funding was caused by the state running out of money, then changing his story to say staff made a "decision" not to apply. But also he was misleading about how much money the county may have missed.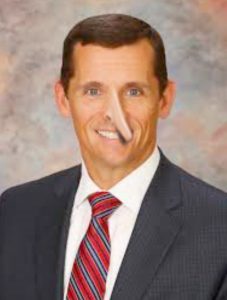 Schebler, in his non-apology apology, claimed that only about $568,000 had been on the line. But that was the amount received for one SCOP project to resurface Soundside Drive**.
However, a Florida Department of Transportation records request reveals Santa Rosa County was approved to receive $2,500,000 for a 2020 project – more than four times the amount Schebler asserted as the "average" SCOP funding.
"The Greenwood Road project was planned for FY 2020 and the Department had allocated $2.5 million," stated FDOT Spokesman Ian Satter on Tuesday, April 27.
Although the population growth resulted in that funding being pulled, it demonstrates how much of an "opportunity" we missed by not submitting the paperwork for it, a move staff unilaterally decided to do — without seeking board approval.
The county's growth has caused it to intermittently lose eligibility for SCOP funds, since SCOP's inception in the July 1, 1999 – June 30, 2000 fiscal year, per FDOT records:
Eligible: July 1, 1999 – June 30, 2014 (Under 150k Population Requirement);
Ineligible: July 1, 2014 – April 14, 2016 (Exceed 150k Population Requirement);
Eligible: April 15, 2016 – October 24, 2018 (Under 170k Population Requirement);
Ineligible: October 24, 2018 – June 30, 2019 (Exceed 170K Population Requirement);
Eligible: July 1, 2019 – Current (Under 200K Population Requirement).
But Riding to the rescue each time Santa Rosa County has become ineligible due to population growth has been Florida House District 3 Representative Jayer Williamson, working with former Representative Clay Ingram and others, successfully persuading around 70 state legislators to vote each time to increase population eligibility SPECIFICALLY so that Santa Rosa County could again qualify.
Current County Commission Chairman Dave Piech has his nose too far up Schebler's back side to practice the Russian proverb of "trust but verify." But District 3 Commissioner James Calkins has been doing a good job of it.
Today's Pensacola News Journal, which has earned its reputation for being a liberal media source, in a scathing editorial ridiculed Calkins as a clown for questioning Schebler.
That shows not only how far out of touch PNJ and Andy Marlette are from Santa Rosa residents but also that
Calkins is doing the job his Conservative constituents hired him to do.
Plus, PNJ is dead wrong that Calkins is the sole driving force for Schebler to resign or be fired.
The truth, should that matter at all, is there is a groundswell of community support growing for it.
You see, Santa Rosa residents don't appreciate being misled.
Gulf Coast Guns & Outdoors Owner Chris Smith on Tuesday tore into commissioners for not holding staff accountable, and a video clip of him at that meeting went viral via the Milton Post Facebook page, receiving more than 150,000 views and more than 2,100 shares to date: CLICK HERE TO WATCH THE VIDEO:
MILTON POST'S CLIP OF HEATED EXCHANGE
For what it's worth, District 1 Commissioner Sam Parker may muster the courage to provide Calkins with some back up.
"I've requested that staff provide me with all the information concerning the issue so I can see what actually happened. I plan to be ready to share what I find out during the next county commission meeting," Parker said.
Well, Sam, don't bother asking County Budget Director Jayne Nichols for it. We did a records request last week and got the following email this Tuesday from County Spokeswoman Brandi Bates: "I checked with Jayne and she has spent quite a bit of time looking for this and has not been able to find it."
That's ok because FDOT was happy to send the records right over, and we'll gladly forward that email on to Commissioner Parker so that he can make a fact-based decision.
The next board meeting will take place at 4:30 p.m., Tuesday, May 11 at the County Administrative Complex, located at 6495 Caroline Street in Milton.