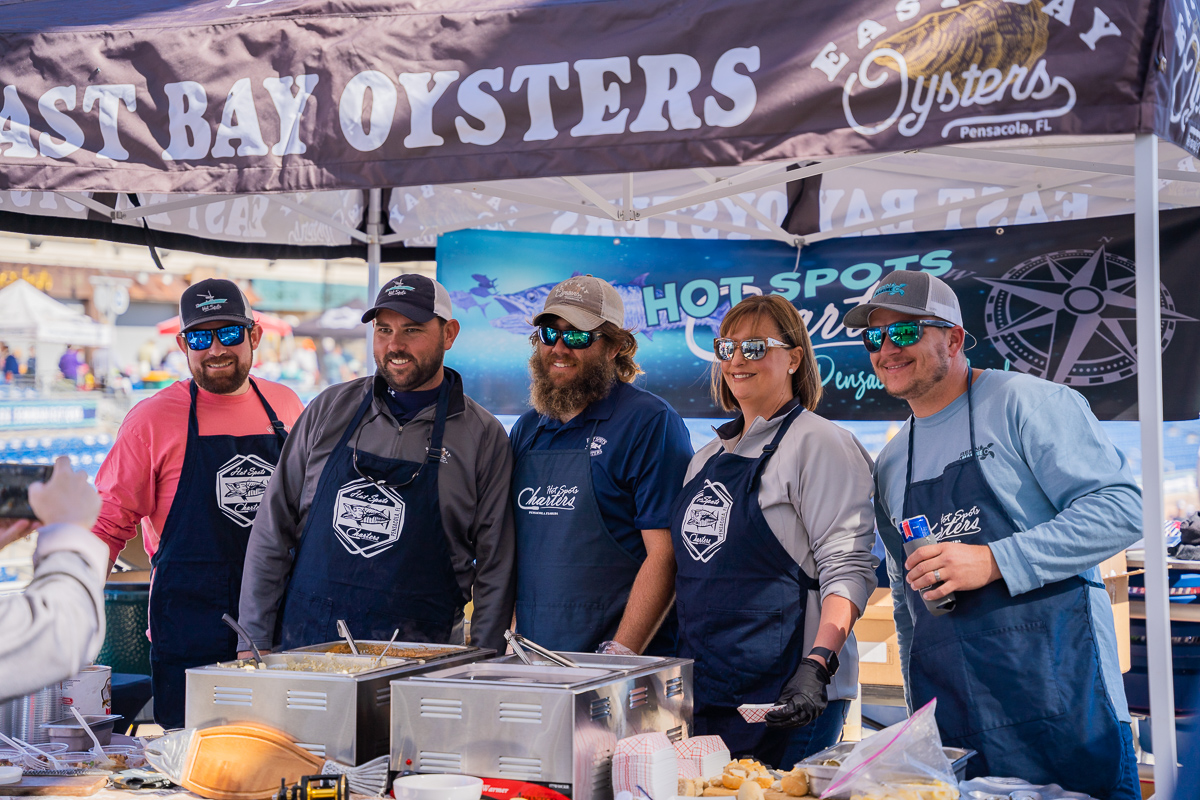 Hot Spots took 1st Place in Peoples' Choice and 2nd Place in Judges' Choice
Pensacola non-profits will get a shot in the arm from overwhelming participation in this year's Pensacola EggFest. This year, the event will be donating $65,000 to local charities, bringing their nine-year total to more than $500,000.
The once-weekend event has now turned into more than 20 events throughout the year. One of the organizers, Jerold Hall, said the support from the community has been very humbling for the team.
"It's more than the money we donate," said Hall. "It's the few thousand meals served at area hospitals during the pandemic and hundreds served to out-of-work hospitality workers. It's cooking for volunteers gathering school supplies for children who can't afford them and taking hot meals to families in need. It's cooking for a business who lost everything during a storm — and watching a community rally to raise money for their out-of-work employees. It's hauling our small but mighty Big Green Egg BBQ Trailer, Jolene, to feed volunteers and families who were displaced after a hurricane. We estimate that nearly 100,000 meals have been served in just the last few years."
Pensacola EggFest sponsored by Kia Pensacola has become a destination event. For several years economic impact to Pensacola has been verified at $125,000 for just the main event. Cook teams, judges and visitors have come from Oregon, Tennessee, Texas, Iowa, Alabama, Georgia, Arkansas, North Carolina, South Carolina, and Louisiana. Good Food Cookbooks have been sold in more than 30 states and three countries. Locals and visitors alike say one thing: it's great to enjoy barbecuing with friends and making our community better.
Organizer Doug Jolly said exposure the local charities receive helps bring a much-needed spotlight and financial assistance to their missions.
"We'll be writing checks to Manna Food Pantries, Rally Pensacola, Studer Community Institute, The Last Mile, Hunting for Healing, Guardian Ad Litem and The Blazer Academy," said Jolly. "Prior to the event, we had already supported ARC, Sarcoidosis Foundation, Gulf Coast Kids House, Autism Pensacola and Making Strides Against Breast Cancer and more. I love the way this event is growing and giving back."
Organizer Lisa Long Lyter said they had a lot of positive feedback about this year's event.
"It's special when you hear from the community that they think this is one of the coolest events in Pensacola," said Lyter, "and that this year was the best ever. We received a ton of emails from attendees and cook teams who are already planning for next year — that's very heartening. We pour our whole hearts into this community movement — it's simply a love of cooking and the joy of giving back to our communities. People want to be a part of that, and the community benefits."
Winners were named in several categories:
Spirit of EggFest: Tie between Pensacola Police Department and Escambia County Sheriff's Office
People's Choice:
1st Place: Hot Spots
2nd Place: Three J's
3rd Place: Water Pig BBQ
Judge's Choice:
1st Place: SESCO Lighting
2nd Place: Hot Spots
3rd Place: The Burn Shop
Alan Gray, cook with the Sesco Lighting Team who took home first place, said their first experience at Pensacola EggFest was exciting and they weren't expecting the sense of community and camaraderie between the teams.
"We've never cooked at a competition before," said Gray. "We just cooked things the way we do for our families — and we wound up making many new friends. The whole experience was incredible."
To learn more about Pensacola EggFest visit the Facebook page or www.pensacolaeggfest.com #goodfood for a #goodcause. Pensacola EggFest is supported by KIA Autosport of Pensacola, Pen Air Federal Credit Union, Legendary Marine Pensacola and Cox Communications.
EggFest has given more than $500,000 to support local charities like childhood cancer and systemic hunger and has served more than 100,000 meals to the community. Charities have included Chain Reaction, Rally Pensacola, Manna Food Pantry, Studer Community Institute, Last Mile 5K, NWF Guardian Ad Litem and Escambia County Sheriff's Office Blazer Academy.