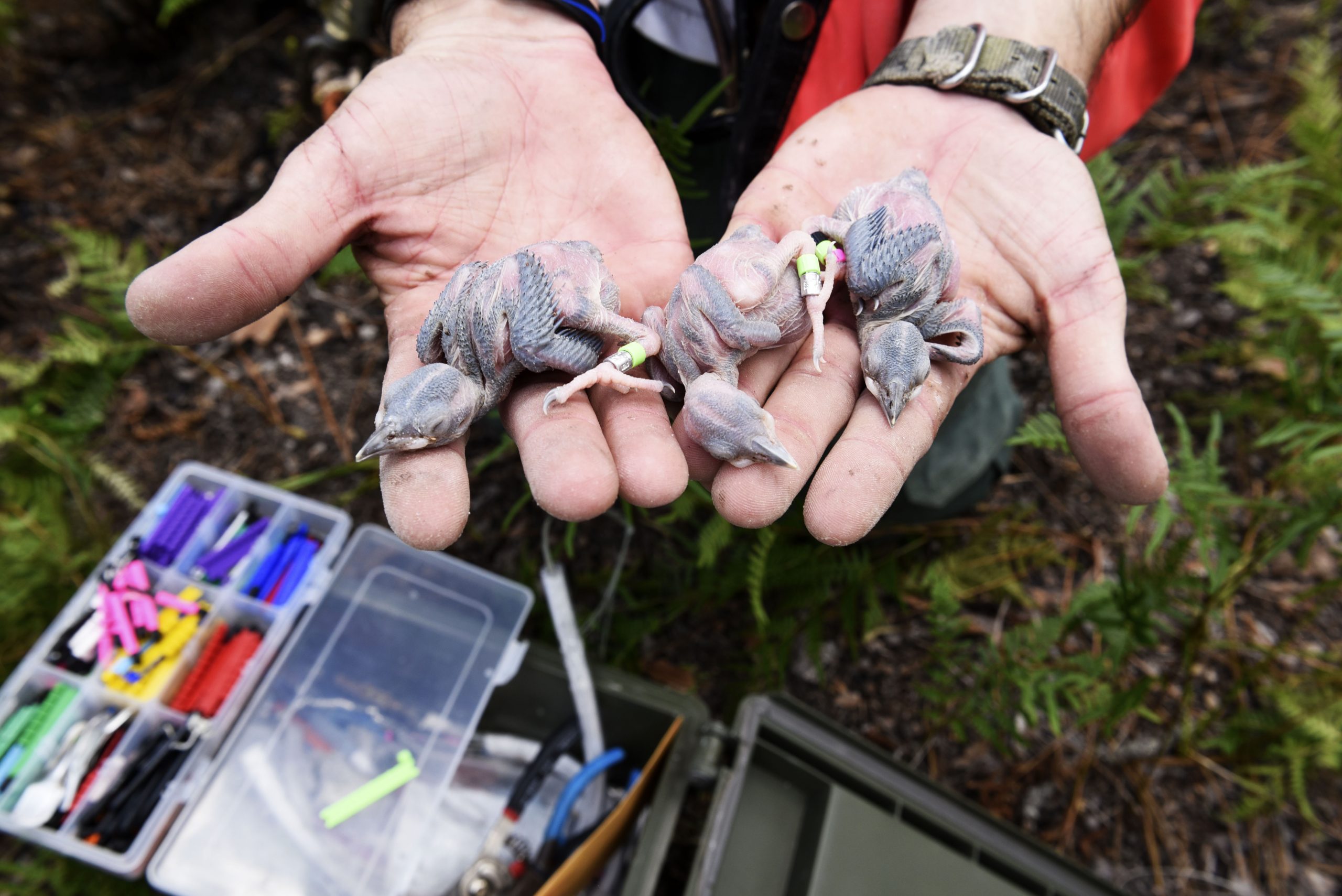 Hutch Collins, 20th Civil Engineer Squadron threatened and endangered species biologist, holds baby red-cockaded woodpeckers after placing identification bands on them at Poinsett Electronic Combat Range at Wedgefield, S.C., May 30, 2018. The woodpeckers are an endangered species that live in old-growth pine forests and reside in large family clusters. (U.S. Air Force photo by Senior Airman Destinee Sweeney)
The red cockaded woodpecker is making a comeback, thanks to partnership efforts between the Air Force and multiple public and private organizations.
The U.S. Fish and Wildlife Service highlighted Department of Defense conservation efforts Sept. 25 at a Ft. Benning, Georgia, ceremony marking the proposed downlisting of the red cockaded woodpecker from "endangered" to "threatened."
"We are celebrating not just incredible conservation success and legacy, but also the spectacular way the mission was achieved – through commitment, passion and creativity of diverse partners," said Aurelia Skipwith, USFWS Director, .
The woodpecker was listed as endangered in 1970. Since 1994, the Air Force's efforts increased populations by 178 percent and its installations now house 585 active potential breeding groups.
Proactive forest management and close partnerships with the USFWS and state agencies and universities continue to play a vital role in population recovery, said Kevin Porteck, the Air Force natural resources subject matter expert at the Air Force Civil Engineer Center, which supports the planning, programming, budgeting and execution of installation natural resources requirements.
"Our ranges are home to a diversity of wildlife and with increasing urban development around them, these installations can become the last refuge for some species like the red cockaded woodpecker," Porteck said.
Since 2012, the Air Force's efforts restored over 23,000 acres of longleaf pine forest and now boasts over 373,000 acres of actively managed longleaf pine, with plans to plant an additional 3,000 acres this winter at Tyndall Air Force Base, Florida. In addition, AFCEC's Air Force Wildland Fire Branch is an essential contributor for ecosystem management, averaging over 140,000 acres of prescribed burns annually.
Eglin AFB, Florida, home to the Air Force's largest population of RCWs, effectively increased its potential breeding groups from 184 to 507 since 1994, surpassing a 2009 recovery goal of 350 groups.
Eglin natural resources managers implement periodic controlled burns and conduct timber sales to maintain and enhance the landscape of mature longleaf pines and ensure the type of open understory preferred by the woodpeckers. The installation's teams also drilled over 1,500 artificial nest cavities as potential nest sites for the birds.
Recovery efforts there have been so successful that the installation donated 212 juvenile woodpeckers to enhance other populations in the region.
"I am proud of this phenomenal accomplishment and how important it is to ensuring our critical mission of national defense continues," said Brig. Gen. Scott Cain, 96th Test Wing commander at Eglin. "My thanks go out to our partners in the U.S. Fish and Wildlife Service without whom we could not have achieved this goal."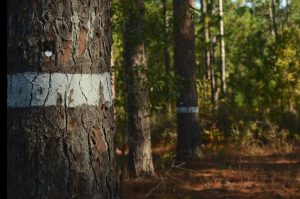 White lines are painted on trees and marked with numbers to signify there is a Red-cockaded Woodpecker, an endangered species, cavity in the tree. (U.S. Air Force photo by Airman 1st Class Diana M. Cossaboom/Released)
Avon Park Air Force Range, Florida, also achieved a population increase since 1994, going from 23 active potential breeding groups to 45, according to Brent Bonner, Avon Park environmental chief.
Likewise, Poinsett Electronic Combat Range at Shaw AFB, South Carolina, increased their populations from three potential breeding groups to 33 since 1994.
Successful recovery of the woodpeckers not only benefits the species, but also provides the Air Force greater flexibility for mission sustainment and expansion.
"If the population of a particular species on a military installation becomes imperiled and warrants protection by law, the result can be restrictions on the use of an Air Force range for training and testing activities," Porteck said. "By sustaining ecosystems and biodiversity, the Air Force provides a landscape that can sustain military testing and training activities now and in the future while simultaneously conserving our natural heritage."