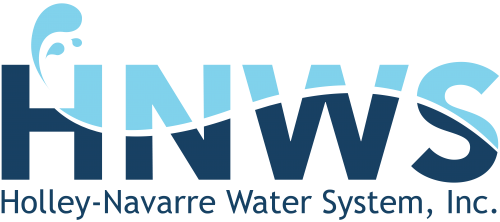 The Holley Navarre Water System, Inc. will host its Annual Meeting including election of directors on January 17, 2023. The meeting will be called to order at 7 a,m, and voting will take place from 7:30 a.m. till 7 p.m. at The Club at Hidden Creek, which is owned by the utility for the purpose of discharging effluent.
This year's candidates are David Crumbley, James Dabney, Daryl Lynchard, Mike Matthews, Mark Neville, Keith Plourde, Jim Ripoll, and April Salazar.
Biographies:
David Crumbley: My name is David L Crumbley. I was born in McDonough and lived in Georgia until I moved to Florida in 1997. For the last 2 ½ years my wife, Erin, and I have owned The VINE Wine Bar, Bistro & Shoppe. I manage the day-to-day operations. I previously worked as Regional Manager for Planet Fitness out of Orlando for 13 years. I helped develop their Southeast Region and managed over 100 people. Erin and I have 8 children and 9 grandkids. I have coached NYSA soccer for 7 seasons, and I play the drums as a hobby.
James Dabney: I moved to Navarre in 1978, graduated in 1989 from Gulf Breeze High School. I have been a Republican since I could vote and believe in work for what you get and get what you work for have worked for myself most of my life and have been a big contributor to Navarre and many area programs. I am recently retired and looking forward to seeing Navarre grow and Santa Rosa County prosper.
Daryl Lynchard: Started working in Navarre in 1992. Moved to Navarre in 1997. Married to Alicia and have two sons Jerrell & Jackson. I am currently serving on the Holley Navarre Water System and Fairpoint Regional Utility Service board of directors. Previously worked with state and local representatives to secure $10m in state funding for the South Santa Rosa County Beneficial Reuse Strategic Plan while serving as Interim CEO/Board president in 2020.
Mike Matthews: USAF Veteran (Hurlburt Field, 823rd Red Horse), served multiple tours overseas. After my honorable discharge I started a concrete business and in 2018 became a state licensed Certified Residential Contractor. I'm also licensed as a Certified Underground Utility and Excavation Contractor. My wife and I have lived in Navarre for 20+ years. In my spare time I enjoy tinkering with my tools in the garage and watching our boys play sports. I work hard for what I have and believe hard work is a sign of character. I love Navarre and will work hard for its citizens.
Mark Neville: My Name is Mark Neville and I wanted to share some history. Born & raised in the Navarre area, following High School and the military service I spent over 25 years in the Transportation/Logistics industry. This was followed by Approximately 15 years internationally supporting the US Military as a Health, Safety & Environmental Professional. To include 11 years in the Middle East and 4 years in Poland and several European countries. Settling back in the Navarre area this past year I work for a High Voltage energy company as a Safety Professional.
Keith Plourde: I've spent 17 years with the Air Force and am currently stationed at Hurlburt Field where I manage maintenance on the Gunship fleet. My wife, two sons and I have had the pleasure of calling Navarre our home for the last four years. For us, nothing beats some fried East Bay mullet and a cold beer with friends on the weekends. We also enjoy the finer things this paradise has to offer, like fishing in the beautiful Gulf of Mexico, hunting big fine bucks in the woods of Santa Rosa and playing baseball with my boys and the NYSA community.
Maurice Ripoll: A resident of Navarre for over 7 years. I thoroughly understand the utility business as well as the structure of roles between the BOD and CEO. My interests are long term for our community and those within the HNWS. I would be honored to help build respect to HNWS and position us with a long-term sustainable strategy. A BS in Industrial Engineering and over 20 years of professional experience in the utility industry, I bring leadership and expertise expected of a BOD member. I am currently Vice President, Program Management for a large solutions company servicing utilities.
April Salazar: I've been in the area since 1996. I'm a military brat and the spouse of a retired military member. I am the proud mother of 5. I obtained my bachelor's in business accounting and have utilized these skills in my life and career. I setup thriving businesses and created a nonprofit organization for youth sports in our area. I enjoyed volunteering on the Holley Navarre Intermediate advisory council and served 3 years on the Community Association Institute board. I believe community is a critical part of our daily lives and hope to contribute positively in any way I can.
The Annual Meeting will take place at The Club at Hidden Creek's event hall, located at 3070 PGA Blvd, Navarre. Anyone needing additional information may contact Emerald McDaniel, Executive Coordinator at Holley Navarre Water System, Inc or at election@hnws-fl.com.