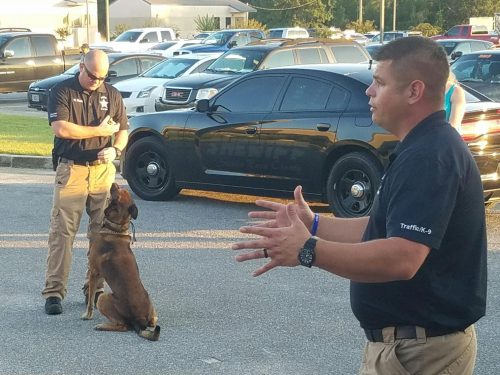 Santa Rosa County K9 Sgt. Roman Jackson pictured during a K9 demonstration. SRSO hosted the event in 2017.
The Escambia County Sheriff's Office will be hosting the 2018 United States Police Canine Association Field Trials during the week of March 5- 9, and they're asking to use Tiger Point Golf Course for the event.
Approximately 50 canine teams from across the region will be in attendance to certify, and the host hotel for the week-long event is Quality Inn in Gulf Breeze Pkwy.
"We are respectfully requesting to utilize the property located at #18 West course fairway for testing the dog's ability to locate evidence," said Lt. Jason Potts in a request to the Gulf Breeze City Council.
According to Potts, they are also requesting permission to maintain the area until the week of the trials. He said a roughly three-acre area s needed with squares of grass cut for independent searches.
Gulf Breeze Police Department Officer Travis White will be assisting the ECSO canine unit with the event, Potts said.
The city council will vote on the matter during an executive session scheduled for 5:30 p.m., February 14 in council chambers.