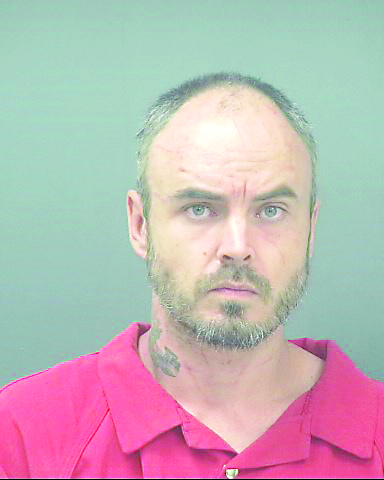 An inmate briefly escaped the grasp of law enforcement officers last Saturday in East Milton after he picked the locks on his handcuffs and fled from a private inmate transportation vehicle.
The man, John Wesley Saatio, 35, was being transported on Interstate 10 via the private inmate transportation company when the vehicle stopped at a rest stop near the 29 mile marker of I-10 at around 10:30 p.m. that day.
Saatio took the stop as an opportunity to flee from the vehicle and escaped from the transportation company in civilian clothing.
Following his escape, law enforcement agencies, including the Santa Rosa County Sheriff's Office and their K-9 units were called out to assist in the search for the missing criminal.
A helicopter was also called out to do an aerial flyover to locate the suspect, but agencies were unable to locate him that night.
At approximately 6:52 p.m. the next day (Sunday), a citizen in Milton called 9-1-1 advising the dispatcher that there was a suspicious person walking in a wooded area just north of the Yellow River.
Based on the description of the individual provided by the citizen to dispatch, law enforcement officers believed the suspicious person was Saatio and drove to the location.
Deputies arrived at the location and immediately deployed a K-9 unit.
The K-9 unit picked up a track on the suspect on the southeast side of Antietam Road in Milton. That track eventually led deputies through a large field and through several small creeks.
Additional resources were called in from Santa Rosa Correctional Institute (CI) K-9, Okaloosa CI K-9, Century CI K-9 and officers with the Florida Fish and Wildlife Conservation Commission following the K-9's track.
Units tracked Saatio for approximately 2 miles over the course of 4 hours and eventually located him near the Yellow River.
When the units caught up to Saatio, he was apprehended without incident. When LEOs searched Saatio, they found 2 makeshift handcuff keys in his socks.
Saatio was transported to the Santa Rosa County Jail following his apprehension where he currently remains under close watch. He was originally charged with Escape and Possession of a Handcuff Key.
Additional charges are pending at this time.
According to SRC Jail View records, Saatio was booked into the local jail at 10:50 p.m.
Records indicate that Saatio has an address out of Hancock, Michigan.
He remains behind bars at Santa Rosa County Jail without bond and several holds placed on him.