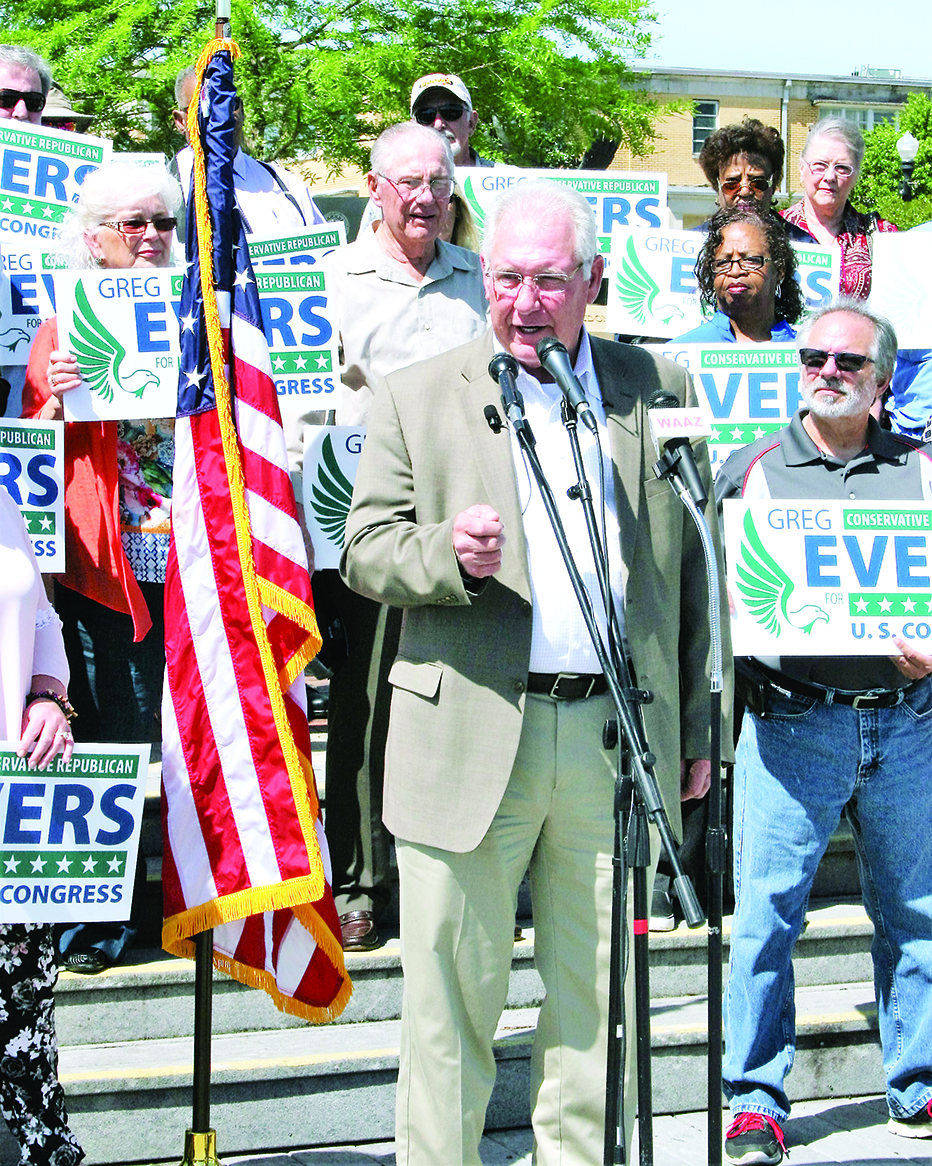 Florida Senator Greg Evers triggered action by other state and local officials this week after announcing Tuesday that he will seek the Congressional seat held by U.S. Rep. Jeff Miller, who isn't seeking re-election.
Evers joins a crowded field of candidates, which includes Florida House District 4 Representative Matt Gaetz, in the race to replace Miller.
Evers' announcement was followed a few hours later by a press release from Florida House District 3 Representative Doug Broxson, who declared his intent to seek Evers' Senate seat.
Broxson said he is "excited" and plans to work to unite District 1 counties and partner with other Florida Panhandle counties to aid job growth and focus on Deepwater Horizon Oil Spill recovery.
The day after Evers and Broxson made announcements, Santa Rosa County District 1 Commissioner Jayer Williamson officially declared he would seek Broxson's House District 3 seat. So far Williamson is the only candidate in that race.
"I had all intentions of waiting until 2018 to seek an open seat for this district," Williamson said. "But after the decision by Congressman Jeff Miller created a domino effect in Northwest Florida, I have decided to transfer my 2018 campaign to 2016."
Florida House District 2 Representative Mike Hill then confirmed Wednesday he will also run for Ever's Senate seat. Frank White and Raymond Guillory, both of Pensacola, have filed to seek Hill's seat.
"In the weeks and months ahead, I will work tirelessly to once again demonstrate that I proudly answer the call to stand with my fellow conservatives. I will stand in allegiance to the Founding principles that are enshrined in our Constitution and freedoms that are divinely endowed upon us by the Creator," Hill said.
As for Evers, who many had speculated might enter the 2016 Santa Rosa County Sheriff or 2018 Florida Commissioner of Agriculture races, he's facing a formidable contender in Gaetz, who had already amassed $900,000 in his bid for Florida Senate District 2 prior to Miller's surprise decision to leave office.
"Like so many in our community, I am fed up with Washington's failures. The Obama Presidency has jeopardized the future of our country by burying us in debt, subverting the Constitution, and abandoning our veterans and weakening our 2nd Amendment rights while radical Muslim terrorism is on the rise," Gaetz said when announcing his "Fight Washington Bus Tour," which will stop at Helen Back in Navarre at 2 p.m., April 23.
Other candidates in the Congressional District 1 race include: Republicans Rebekah Johansen Bydlak, Cris Dosev, Brian Frazier, John Mills, Mark Wichern and James Zumwalt; Democrats Amanda Kondrat'yev and Steven Specht; and Elizabeth Anne Schrey, NPA.