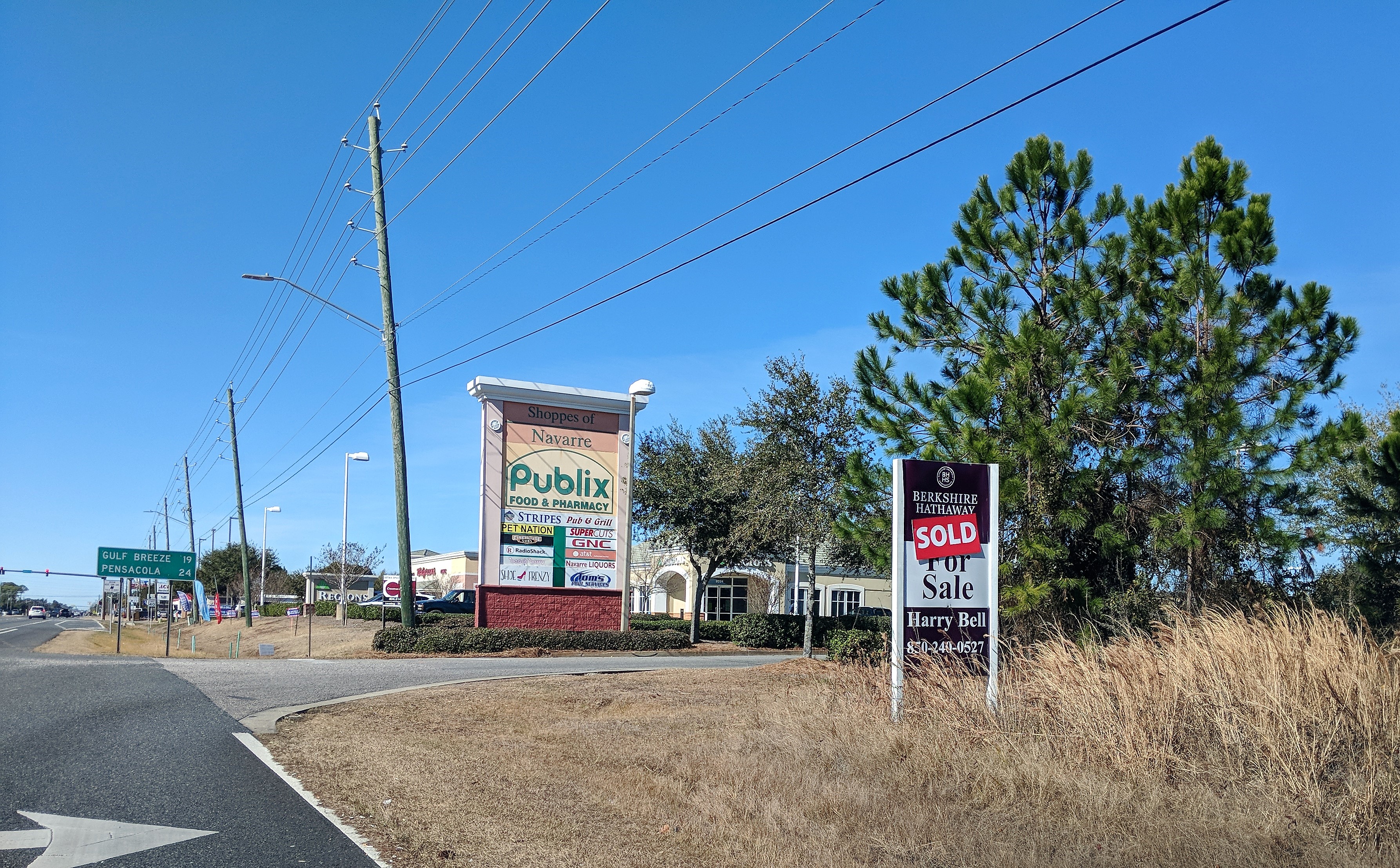 A large commercial development, including a movie theater and restaurants, is planned for roughly 33 acres which was recently purchased next to Publix Shopping Center in Navarre. Santa Rosa County District 4 Commissioner Rob Williamson described the project as "exciting."
"Nothing is signed yet. They've just closed on the property. This has been a lot of work up to this point. There's been a lot people who have been working very hard to make this possible," Williamson said. "Right now we just have ideas and concepts, but I'm confident they will deliver a finished product that the community has wanted for a long time. This is exciting for Navarre because it delivers the type of smart growth and type of development that Navarre has been asking for."
Destin-based Navarre Beach Crossings, LLC last month purchased two parcels for $5.495 million. The property includes an 18.46-acre parcel located at the intersection of Hwy. 87 S and U.S. 98 and a 15.33-acre parcel adjacent to the north.
"This group of investors wants what many in the Navarre community have wanted for quite some time," Williamson said. "These folks have been associated with world-class developments, and this will be on par with the best development Navarre has seen. It will be something we can all be proud of and will deliver amenities."
Per Williamson, certain incentives helped attract the development. "There were things we as a government had to get of out of way. We had to address the alcohol policy and get a water board which would work with them on tap fees."
"Our vision for Navarre is to bring an exciting shopping center to finish off the Publix Shopping Center already there," said Craig Kruse, one of the developers.
Kruse said Merg Hoffman will be the "point man" in the project's construction and leasing, noting that Hoffman also worked on the original Publix Shopping Center project.
"We brought (Merg) back in to do a completion this time," Kruse said. "We look forward to doing something really great for the community. and Commissioner Rob Williamson has been very helpful. He's been instrumental in helping us and setting up meeting with the Florida Department of Transportation, etc."
Hoffman said the partners have been working closely with Williamson on what they're collectively calling the "Heart of Navarre."
As far as which businesses might be lured to the site, Hoffman said a theater and restaurant(s) will definitely be in the mix. Hoffman said they will also work to attract a book store, pet store and "junior" retail store. "Beall's would be perfect, Anything like Belk , Homegoods, Marshalls, TJ Maxx, any one of those."
The partners say they have not begun conversations any anchor tenants but their objective is a development Navarre would be proud of. "Something to keep traffic here in Navarre versus going east or west, Keep the retails dollars here and create some jobs," Kruse said.
Hoffman said he will update South Santa Rosa News as business plans are solidified.
"They've done a lot of these developments around the state of Florida, so they've have the relationships to make it happen. And they're here for the long haul. They believe the future is bright," Williamson said.