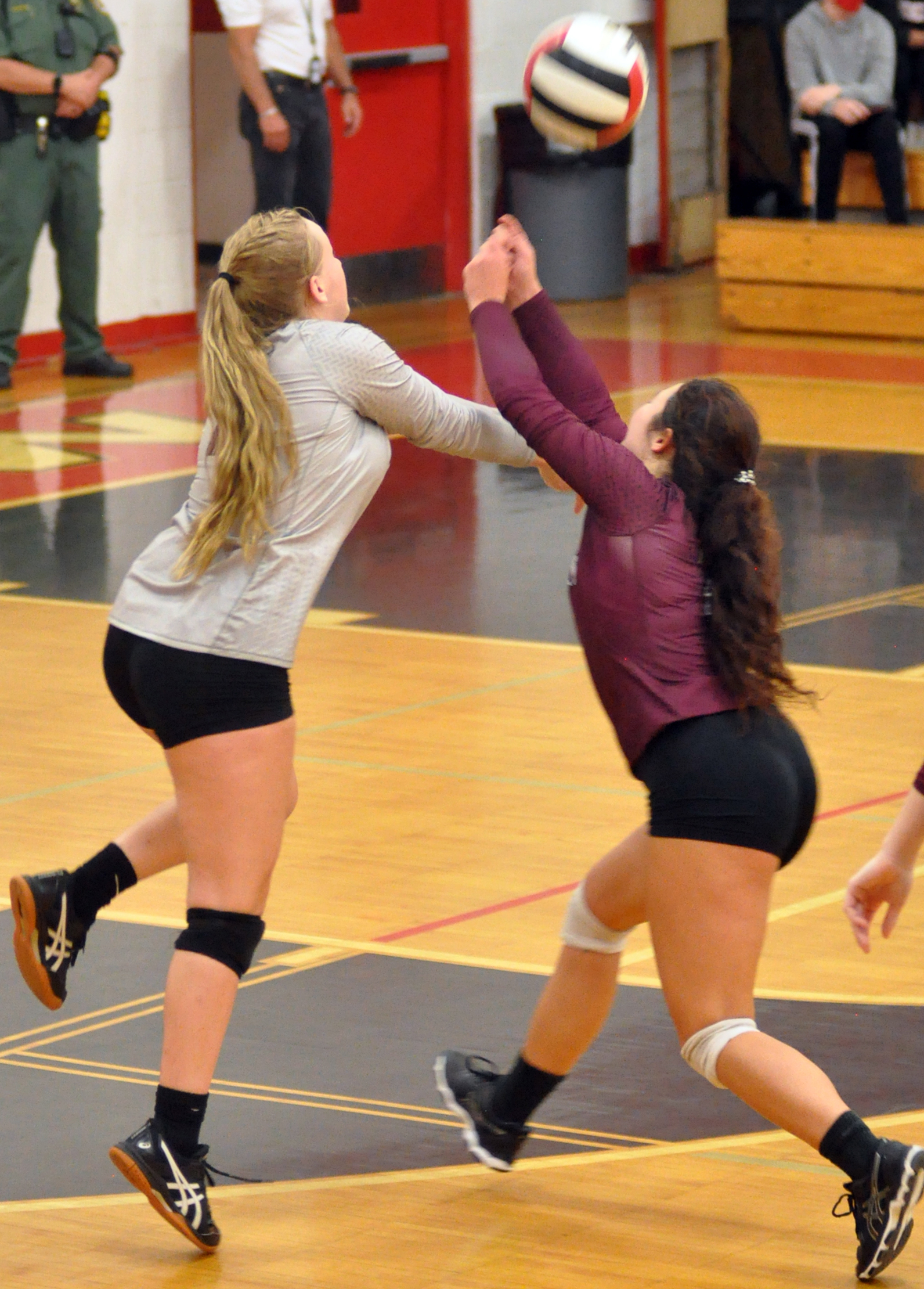 Ansley Finley and Sammy MacFarland pursue a loose pass in the back row Tuesday. (Photo by Stuart Camp)
Although marred by COVID-19, the Navarre High School Lady Raiders' volleyball team earned their first winning record since 2012, and it was a battle to the end for a team whose story was an adventure.
Navarre (8-7) fell to the Crestview Bulldogs (6-6) in four sets in the first round of post-season play. The volleyball Raiders came into the match with a three-game winning streak against an opponent who was fresh off a three-set loss to Pensacola.
An early eight-point charge by Navarre right off the bat, which eventually expanded to a lead as big as 12, allowed the Raiders to absorb a late-game surge, winning 25-19. The Bulldogs claimed the next two sets, 17-25 and 15-25.
The fourth set was a rager. Early, Navarre had a three-point lead. Momentum swung between both sides, and what might've appeared to be a death blow came when Crestview took a four-point lead – 21-17. But the Raiders fought back to pull even at 23 and again at 24. Crestview took the final two points, the match, and the chance to face Niceville for the district title.
Coaches, fans, and players were expecting a fifth set.
"I would've never had that cross my mind with teams in the past, just having that hope," said senior setter Sammy MacFarland. "We just played our hearts out, pushing. The best team won. We both played our best. It was just great."
Davenport credited Crestview with pulling out the win, even though the Raiders were just a heartbeat away.
"That was a helluva shot to win the match. There was nothing we could do about that," he said.
The coach watched the "pure grit" displayed.
"We had a couple new plays in serve-receive that were successful, (but) we struggled in serve-receive. That was probably the difference," he said.
However, they were missing three players due to injury or exposure to COVID-19 – seniors Grace Mcalister, Regan Rudzki, and Sarah Shoffner. "Which we could've used," head coach Ryan Davenport said.
The Bulldogs were at full-strength.
"We didn't come in here looking for excuses. I can guarantee you that," Davenport said. "The girls who played gave it their all. I am not mad – nothing to be mad about here. Am I hurt and disappointed, like the girls? Absolutely. They worked really hard and deserved it, but mad is the last thing in my mind."
Reflecting on the strides the team made over the season, MacFarland added to the list of accomplishments – the first set win was the first victory against Crestview since 2014.
"We haven't taken a set from Crestview in so long," she said. "I just feel so great about this season, as a whole. I'm just grateful that I got to be a part of it."
In their final regular-season game, the Raiders beat the Fort Walton Beach Vikings in a five-set victory Saturday at home.
But the weekend match was marred with "happenings." First, the power went off during the junior varsity match, which left two rows of lights blinking over the Navarre side of the court for the varsity match.
"My timing for hitting was good. When I first went in the first ball that I passed, I was like 'oh, this is weird," senior hitter Aubrey Walls said about the flickering overhead. "But you just kinda get used to it."
It's possible that dropping the first two sets could be attributed to the strobing lights. But a change in the match spun the momentum the Raiders' direction.
"I can pinpoint it," Davenport said. "When we had the longest rally of the entire match. I told myself in the middle of that rally whoever wins this rally will win the match. It was miraculous."
Even after the game, MacFarland was pumping with adrenalin.
"Because it's our last game, and all the seniors," she said. "We've never beaten Fort Walton, and so doing it there was nice, but doing it at home – it is unreal."
It wasn't like Fort Walton Beach collapsed, as the box score was 15-25, 18-25, 26-24, 25-22, and 15-9.
Vikings coach Gil Sierra was appreciative of the Raiders' cohesion. He said: "I think it attributes to the desire to play together and know that nothing is over 'til it's over. They did everything they needed to do."
The loss to Crestview was the seniors' last game. There were 10 of them on this year's roster. Davenport said at senior night, "There's a reason I kept all the seniors on this team, because I know they can all contribute."
Abbey Nebarez took a few moments on the bench after the final point, but she emerged smiling.
"We did our best. I think we're all satisfied knowing we left everything out on the court. I know I am. It didn't turn out how we wanted, but we fought for it," said Nebarez. "Tonight was like the end of a really amazing book that we worked every single day on, every single page. It was a giant, best-seller, and we closed the back cover."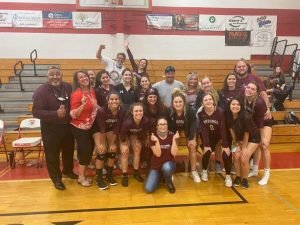 "Our 2020 Lady Raider season came to an end last night against a great team at Crestview High. For the 3 years I have been with Navarre Volleyball, this group right here has been instrumental in buying into a new culture that not only has brought this program up to a winning program, but competing at a level that brings a team like Crestview to the brink of a 5th set. Words cannot describe the true thanks to my Seniors and their families," said Davenport.