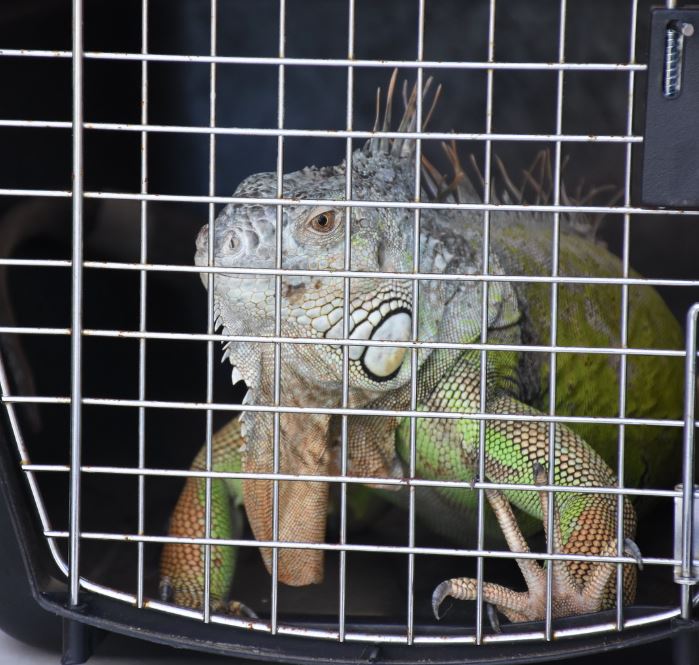 The Florida Fish and Wildlife Conservation Commission (FWC) and Gulfarium Marine Adventure Park are holding an Exotic Pet Amnesty Day event on Saturday, October 12, 2019, in Fort Walton Beach.
People may surrender their exotic pets at the event, whether they are being kept legally or illegally, without penalty or cost. The Exotic Pet Amnesty Program offers a legal alternative to releasing exotic pets that owners can no longer keep and helps to reduce the number of nonnative species being introduced into the wild.
This event is open to the public from 10 a.m. to 2 p.m. at Gulfarium Marine Adventure Park, 1010 Miracle Strip Pkwy SE, Fort Walton Beach, FL 32548. Live animals will be on display and experts from the FWC will be on-site with information about caring for exotic pets, responsible pet ownership and potential ecological impacts of invasive species in Florida. The event is free and open to the public, but entry into the Gulfarium Marine Adventure Park is not included.
Surrendered exotic pets will be accepted between 10 a.m. and 2 p.m. and given a health exam by a veterinarian before being made available for adoption that same day to pre-registered, experienced individuals who can care for them. Animals that will be accepted for surrender include nonnative species of reptiles, amphibians, mammals, birds, fish and invertebrates. Domestic animals, such as cats, dogs, pigs and chickens, will not be accepted.
Animals will be made available for adoption after 2 p.m. Exotic pet adopters need to be experienced and must have already applied and been approved by the FWC. Potential adopters should bring their acceptance letters and any necessary permits with them. Becoming an adopter is free, but in order to be eligible to adopt animals surrendered at this event, your application must be approved a minimum of four days prior to the event. Application forms may be found at MyFWC.com/PetAmnesty by clicking on "Become an FWC exotic pet adopter."
Exotic Pet Amnesty events are held around the state throughout the year. For additional information about Exotic Pet Amnesty Day, visit MyFWC.com/PetAmnesty or call the FWC's Exotic Species Hotline at 888-Ive-Got1 (888-483-4681). Exotic pet owners who cannot attend this event may call this number year-round for assistance in finding a new home for their animal.
For more information about adopting exotic pets, visit MyFWC.com/PetAmnesty.