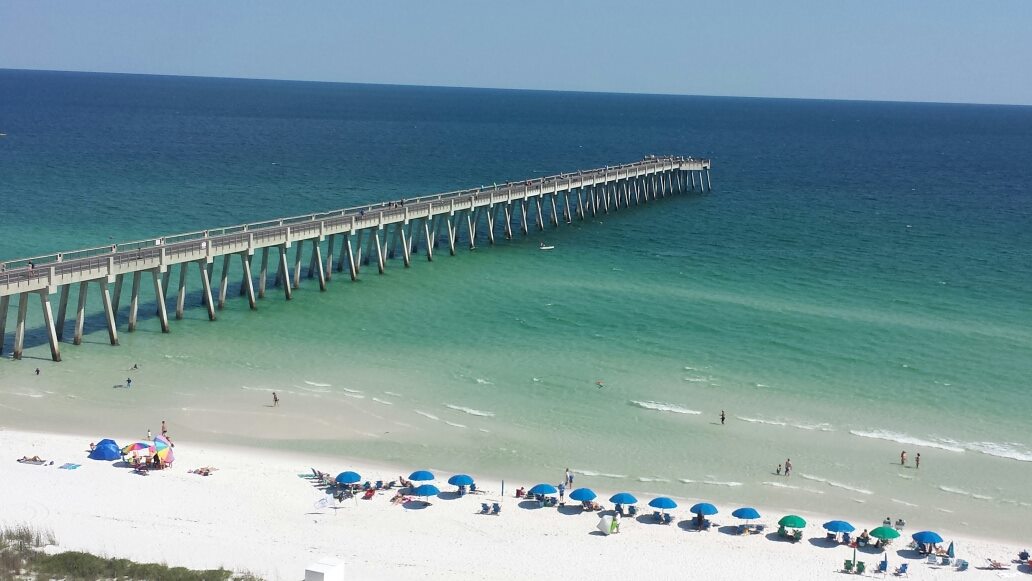 Santa Rosa County Commissioners could decide this month whether to extend the current contractor's right to operate the Navarre Beach Gulf Pier or seek new proposals from other companies.
Coastal Concessions has held the contract to operate the pier and adjoining store/restaurant since Jan. 1, 2014. That contract expires on Dec. 31, 2016.
"The contract allows for two additional one year terms if agreed to by both parties," County Administrator Tony Gomillion wrote in a memo to commissioners. "If not renewed, it will be necessary to begin the (proposal request) process in order to have a decision in place in the September/October time frame."
Commissioners are scheduled to discuss the issue at Monday's committee meeting, set for 9 a.m. at the Santa Rosa County Administrative Office Complex, located at 6495 U.S. 90, Milton (behind McDonald's).
Generally, commissioners discuss items at committee meetings on Mondays with decisions coming at the regular meeting the following Thursday. The meeting on Thursday, July 14, is set for 9 a.m. at the Administrative Office Complex.
The agenda for Monday's meeting is available at http://santarosa.fl.gov/agendas/agendaView.cfm?ID=2218. Commission meetings are broadcast live at www.santarosa.fl.gov.
Coastal Concessions and the county have had a sometimes rocky relationship. Concerns over deposit practices and other issues earlier this year lead to an amendment to the original operating agreement. Adopted in June, that amendment states that:
Coastal Concessions pays the county 5 percent of gross revenues from the pier store and restaurant. Under the original agreement, 3.1 percent of the gross revenues were due to the county.
All admission fees are revenue of the county. All cash receipts must be kept in a locked bank bag and taken to the county's Navarre Beach Office the next business day.
Coastal Concessions pays all water and sewer costs associated with the store, restaurant and restrooms, and the electrical costs associated with the store and restaurant. The County pays electrical costs related to the pier and restrooms.
The county provides all required paper products, trash bags and cleaning supplies.
At 1,545 feet, the Navarre Beach Gulf Pier is believed to be the longest fishing pier on the Gulf of Mexico.
Also on Monday, commissioners will also consider a request from Ed Carson to form a citizens overnight committee for the two proposed Local Option Sales Tax questions to be voted on by citizens at the Aug. 30 primary.
Under those two proposals, a half percent sales tax would be levied to fund a new courthouse and another half percent to fund other capital projects, like sheriff's patrol cars and storm water abatement.
On Thursday, commissioners will conduct a public hearing on an ordinance amending the rules that govern public parks, especially those on Navarre Beach.
The proposed changes include allowing alcohol to be sold on the beach, in some circumstances, as well as allowing parking lots of be used for special events, banning all pets except for service animals and allowing parks to be used for commercial purposes when approved by the County Commission.
Also on Thursday, the Zoning Board will meet at 6 p.m. at the Administrative Office Complex.
Items on the agenda include:
A request from Synovus Bank to reduce setback requirements for a 9 acre parcel on White Sands Boulevard on Navarre Beach to allow for more single-family homes to be built than would be allowed under current zoning rules. The changes would allow 12 homes.