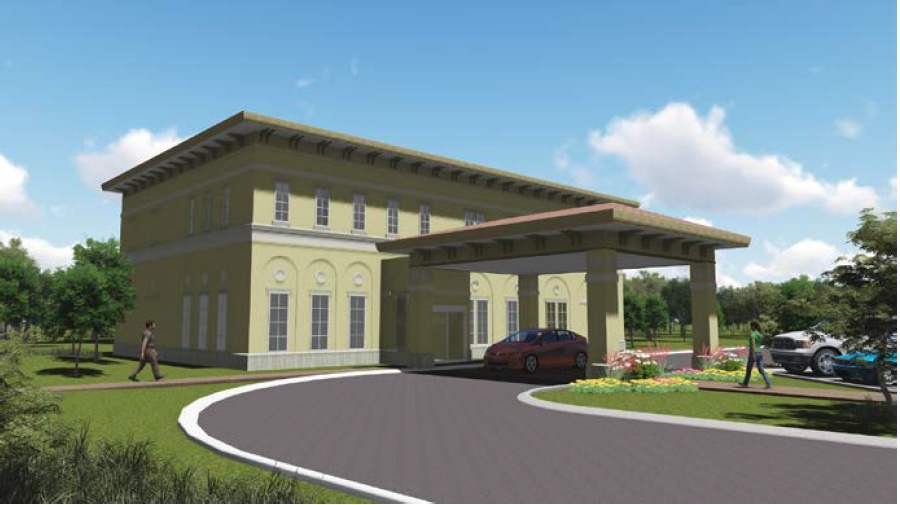 A Pediatric Facility could be coming to Gulf Breeze Proper in front of the Gulf Breeze High School stadium parking lot after a request was sent to the City of Gulf Breeze to have a Level III Professional Office Building erected on the lot located across from Panera Bread.
The request came from NNGS, LLC.'s Rodney Sutton at the city's special Development Review Board meeting Thursday night.
According to the request, the developer wants to erect a 2-story, nearly 9,000 sq. ft. building in front of the stadium. The building would house a number of pediatric offices. The height of the building would be slightly over 34 feet tall, just under the city's building height restrictions.
"Our height limit in most areas is 35 feet…in that location it's 35 (feet)," said City Manager Edwin "Buz" Eddy.
According to the land development code, the lot is labeled as C2 (limited commercial) with a future land designation of C (commercial). The commercial plat allows for professional and medical offices to be built on the property. Eddy said the site plans fall in line with the city's Master Plan.
Eddy also said the property, which is owned by Crimson Daniel Holdings, LLC. out of Newport Beach, Calif., has never been developed on.
The facility concept shows a covered drop off location at the front of the building and a study indicates the developer would have 44 parking spaces at the site.
According to the city's land development code, the project is required to have one parking space for each 300 sq. ft. of usable floor space in the building. That equates to roughly 30 parking spaces.
But the number of parking spots shouldn't scare locals away. Eddy said a traffic study has been done on that location and that the facility isn't so big that it would dramatically impact traffic at that already busy intersection.
"The streets around it can handle the additional traffic load," he said.
The building would sit on a 1.253 acre lot. Stormwater plans for the property have not yet been assessed by the city. The estimated cost to build the facility and the parking lot is $2.6 million.
According to recent sketches, the building would not face Daniel Drive nor Hwy. 98. Instead it would face the football stadium entrance. The parking lot for the facility would butt up against the football stadium's parking lot on Daniel Drive.
With plans in hand, the developer is looking to move fast on the project, and there isn't a lot left that the developer has to do in order to get dirt turning at the site.
"They (developers) still have to get approval from the city council based on recommendations by the DRB and Architectural Review Board. Then (the developer) has to get building permits from Santa Rosa County," Eddy said.