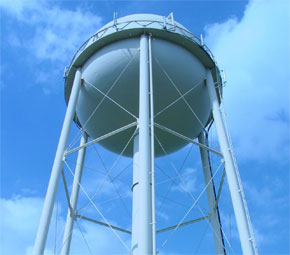 Fairpoint Regional Utility System, an entity created about 15 years ago to provide water service for the south end of Santa Rosa County, is seeking to refinance roughly $9.2 million in debt, which it incurred to fund construction of a well system in East Milton.
That system currently has six wells which are used to provide water from the sand and gravel aquifer to a 53-mile service area in the south end of the county.
The regional utility, which is comprised of representatives from the South Santa Rosa Utility System (City of Gulf Breeze), Midway Water System and Holley-Navarre Water System, recently approved refinancing two loans which would otherwise be paid off in 2024, according to HNWS General Manager Paul Gardner.
Phil Phillips, vice president of Municipal Engineering Services, said around four or five months ago representatives from the City of Gulf Breeze expressed concern that today's customers might be burdened with future FRUS improvements, so it was suggested to refinance FRUS debt over a 20-year period.
According to Gardner, refinancing the loans would "free up" roughly $800,000 in annual debt service, allowing the regional utility to pay cash for capital improvements, such as updating outdated equipment.
"(FRUS) has been in operation for 15 years," Phillips said, pointing out "routine" operations maintenance upgrades are needed, including the replacement of four diesel generators. "It takes a lot of time and effort by staff" to get back-up power running to those four wells, he said.
Gardner stressed the refinancing is eyed for FRUS. "Holley-Navarre Water System is not borrowing any money," he said, explaining FRUS must have each of its three member utilities take a vote on the matter.
Additionally, Gardner said three banks were contacted to bid on the refinancing.
The matter will be further discussed at tonight's Holley-Navarre Water System board meeting which starts at 7 p.m. at its board room, located at 8574 Turkey Bluff Road.