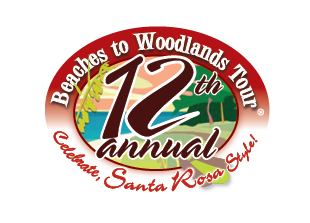 The 12th annual Beaches to Woodlands Tour Schedule is packed with family friendly events, including several fun-filled activities this weekend.
"Traditionally the tour has been held 'weekends in October' but some of our big agritourism events always spread from late September into early November," said Karen Harrell, the tour's coordinator for the past seven years. "When the weather gets cooler people are ready to get outdoors and back to nature and we serve up many opportunities to do just that."
Highlighted venues for this weekend include agritourism spots on the north end of the county: the 26th Annual Jay Peanut Festival, Sonshine Farms Corn Maze, and Holland Farms and Pumpkin Patch.
Plus, the following Navarre area events, taking place October 3:
Oktoberfest at Juana's Pagodas, 12 noon – 4 p.m. $15 for beer tasting benefitting the Navarre Beach Marine Science Station
Pink Pirate 5K run/walk, starting at 8 a.m. at the Navarre Beach Boat Ramp. $25 with packet pick up Oct. 2 at Navarre Park from 12 noon – 7 p.m.
Sand Dollar Saturday Marketplace, from 9 a.m. – 2 p.m. Local market with pet rescue adoptions at Sand Dollar Plaza, 1900 Hwy. 87 South.
Take a Kid Fishing Day at Navarre Beach Fishing Pier, starting at 8 a.m. Free kid's fishing pole giveaway and clinic with free bait and instruction.
"The best part of our event schedule is that it develops organically and that's what great about the tour," Harrell said. "Visitors and locals have a chance to experience so many of the people, places and things that make Santa Rosa County an exceptional place to be, particularly in the Fall season."
For the event schedule and a link to lodging visit: www.thebeachestowoodlandstour.com.