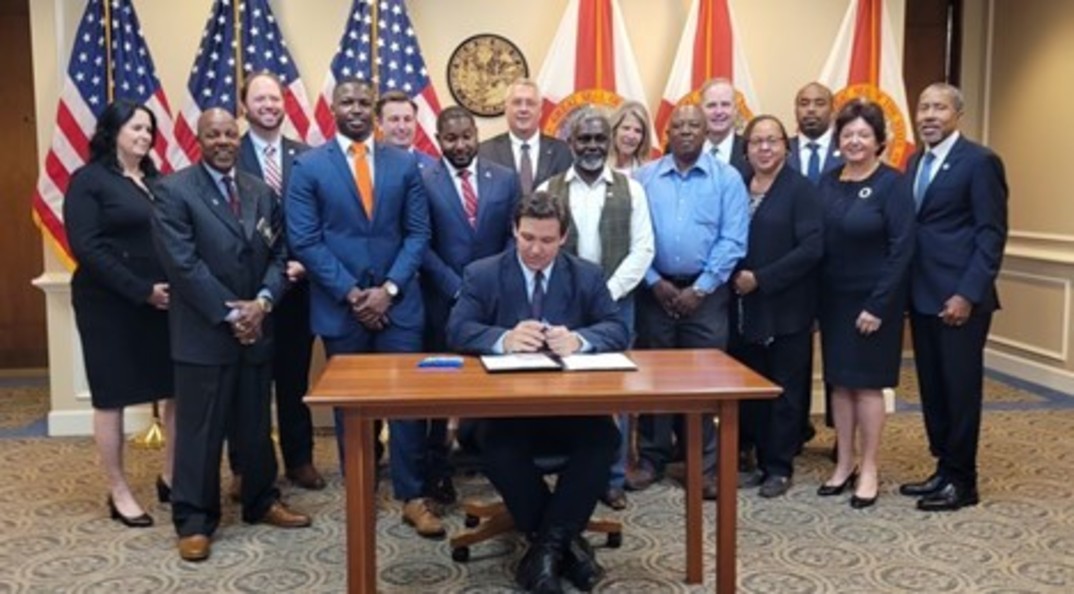 PICTURED – Front: Governor Ron DeSantis; Middle (pictured left to right): Pahokee Mayor Keith Babb; Stephen Singleton, Singleton and Sons; Matt Griffin, Former Florida Farm Bureau Young Farmer and Rancher and 2020 Excellence in Agriculture Award recipient; Michael K. Brown, Brown's Produce Farms, LLC; Shedrick and Denise McGriff, McGriff Farms; Senator Kathleen Passidomo; and Senator Darryl Rouson, Chair of the Senate Committee on Agriculture. Back (pictured left to right): Senator Kelli Stargel; Representative Jayer Williamson, House bill sponsor; Senator Jason Brodeur, Senate bill sponsor; John L. Hoblick, President of Florida Farm Bureau; Senator Debbie Mayfield; Senate President and lifelong farmer Wilton Simpson; Senator Bobby Powell, Chair of the Florida Legislative Black Caucus.

Florida Governor Ron DeSantis on Thursday signed into law Senate Bill 88, Farming Operations, which preserves Florida's agricultural heritage and modernizes Florida's Right to Farm Act, which regulates agriculture throughout the state of Florida.
The Governor was joined at the bill signing ceremony by Representative Jayer Williamson (R-Pace), who sponsored the legislation; Florida farmers; Senate President Wilton Simpson; and Senator Jason Brodeur, who also sponsored the bill, which received strong bipartisan support.
"This is a law that protects Florida farmers who are doing the right thing from nuisance lawsuits. If you are breaking environmental laws, this law will not give you any safe harbor," Williamson said.
Senate President Wilton Simpson (R-Trilby), a lifelong farmer said, "Governor DeSantis and the Florida Legislature stand with Florida farmers. The State of Florida is committed to preserving Florida's farms, which are legacy businesses that contribute to our nation's food supply and billions of dollars to our state's economy. We frequently update our laws to recognize changes in other industries, and today we are coming together to make it clear that our hardworking Florida farmers will not be left behind."
Speaker Chris Sprowls (R-Palm Harbor) said, "It was a pleasure to partner with President Simpson on his passion project to protect Florida's agriculture industry. With his leadership, Florida's farming land remembered will never be forgotten. The Right to Farm law recognizes the importance of the agriculture industry to Florida's economy and putting food on our tables. It gives farmers the protections they need to do their job without fear of nuisance lawsuits. I've often said that you occasionally need a doctor, you sometimes need a lawyer, but you'll always need a farmer – three times a day."