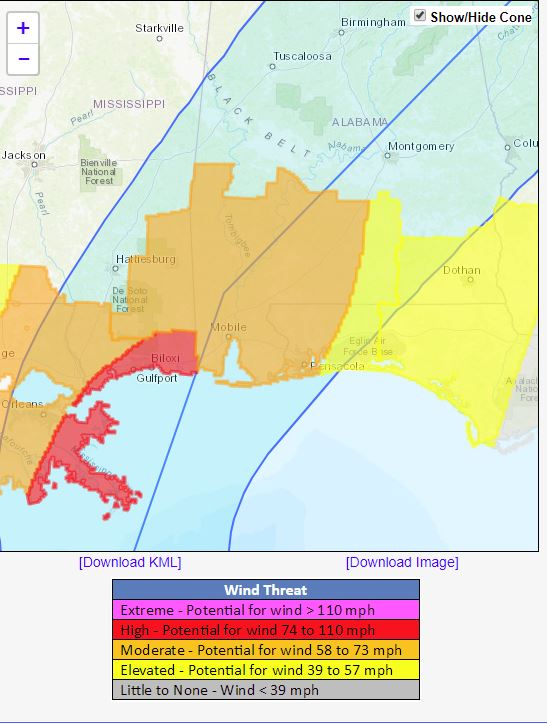 Tropical Storm Nate is expected to keep intensifying into a hurricane as it moves quickly across the Gulf of Mexico towards our region. The storm is currently moving NNW at 21 mph with sustained winds of 60 mph, per the National Hurricane Center's 4 p.m. CDT advisory.
"It will be a quick hit to our region Saturday night and into Sunday. On one hand, this will limit will the time our region is exposed to the impacts, however, many of Nate's impacts will likely be quite significant. Impacts include storm surge inundation, wind, rainfall and tornadoes," stated NHC Forecaster Jeffrey Medlin.
According to Medlin, winds will "abruptly increase" late Saturday night and into early Sunday and conditions will improve late Sunday.
"Modest power outages, possibly widespread around where the center of the storm makes landfall, are likely, he said.
Per Medlin, the highest winds will generally be west of I-65 and closer to the coast, and storm surge of 2 to 4 feet is expected in the western Florida Panhandle.
A storm surge warning is now in effect from Morgan City, Louisiana, to the Okaloosa/Walton county line in Florida per the National Weather Service.
"Our region is classically located in a favorable region for tornado production with respect to Nate's center. Tropical- related tornadoes often spin up quickly and strike with little or not warning," Medlin said.
LOCAL ACTIONS:
Santa Rosa County Schools Superintendent Tim Wyrosdick earlier today announced that he is cancelling activities for Saturday evening. "At present, we will be in school on Monday," he said, noting that a decision regarding school on Monday will be made by 6 p.m. on Saturday.
Santa Rosa County Sheriff's Office Spokesman Rich Aloy said Navarre Beach Bridge will be closed if and when sustained winds reach 40 mph. Emergency traffic only will be allowed.
The next NHC advisory will be issued at 7 p.m., CDT.