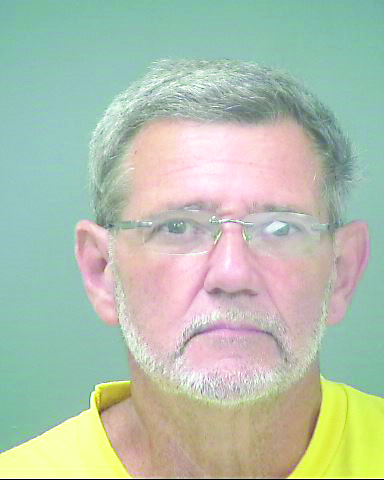 A Gulf Breeze man and his son are behind bars at Santa Rosa County Jail after the two got into a verbal argument that resulted in the father brandishing a firearm.
According to the Santa Rosa County Sheriff's Office arrest report, 62-year-old Bruce Thumm and his son, Justin Thumm, 32, were both arrested following the alleged altercation, which was captured on video and put behind bars. Thumm Sr. was charged with Aggravated Assault with a Deadly Weapon and Battery, while his son was charged with Possession of a Weapon by a Convicted Felon.
According to the arrest reports, law enforcement was called out to a residence at the 3700 block of Monopoly Court in Gulf Breeze at around noon on Tuesday in reference to a disturbance.
When law enforcement arrived on scene, they met with Michael in the front yard. The responding officer noticed a bulge coming from the back of Michael's pants pocket and did a search on the man. The officer was able to confiscate a .22 caliber Derringer Pistol from one of the 32-year-old's back pockets. The man stated that he forgot the weapon was in his pocket, according to the arrest report.
Michael told the officer that he was in a verbal altercation with his father earlier that day and that his father pulled that handgun from his nightstand located in the living room, the report indicated. The report then stated that Michael told the SRSO deputy that his father pointed the gun at him. Michael stated that the two were arguing about drugs inside of the home.
Michael told the officer that he grabbed the gun and put it in his back pocket to "safeguard himself from harm's way", the report stated.
Michael stated he had video evidence of the alleged incident and showed the officer the footage.
The cell phone video footage showed Bruce pushing Michael out of the residence, and at one point, the family dog, a Pitt Bull, started attacking Bruce. The report indicated that the dog started biting Bruce's leg, and Bruce was heard stating in the video that he wanted to kill the dog.
After the dog attacked Bruce, the video showed Bruce brandish what appeared to be the handgun that was found in Michael's back pocket, at which point the video shut off.
Because Michael had the firearm on him when a deputy arrived, he was arrested for being in possession of a firearm since he was a convicted felon.
When the deputy spoke with Bruce, he admitted to the officer that he was in a verbal argument with his son, but that he walked to a nearby gas station to cool off. He stated that on his way home he was attacked by a German Shepard, the report indicated. When the officer told Bruce he had video evidence of the altercation, Bruce denied it was him in the video footage.