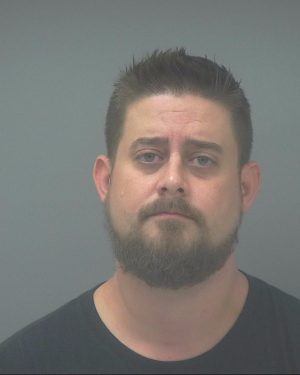 The Florida Highway Patrol last night announced that Daniel Weidman, the suspect in 11 separate hit-and-run accidents which took place November 24 along the U.S. 98 corridor between Gulf Breeze and Navarre, is facing 12 DUI, 12 reckless driving and 11 felony hit-and-run counts.
Weidman, 38, a resident of Midway, was booked into Santa Rosa County Jail at 12:34 p.m. yesterday, following his release from a local hospital. He is currently being held without bond.
According to FHP, a 2008 JEEP WRANGLER was traveling eastbound on US Highway 98, within the inside lane of travel, from Gulf Breeze to Navarre. As the Jeep was traveling, the driver rear-ended 11 different vehicles at 11 different various locations along US Highway 98.
Police say that in each one of the crashes the driver of the Jeep did not stop, but yet continued traveling eastbound on US Highway 98 until the suspect collided with the next vehicle until he lost control of the Jeep and and collided with a tree.
Per FHP, all the individuals that involved sustained minor injuries.