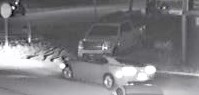 Surveillance video from Juana's Pagodas
The Florida Highway Patrol is seeking a 2010-2015 red Chevolet Camaro which reportedly struck a woman who fell from the exterior of a moving vehicle on Navarre Beach Bridge on August 19.
According to FHP, Jeanette Martinez and Amber Morin were riding on the exterior of the Nissan Armada northbound on the Navarre Beach Causeway when Martinez fell off the SUV and landed in the northbound lane of the causeway.
Troopers say a second vehicle, a red Chevrolet Camaro between the years of 2010 – 2015, struck Martinez a few minutes after she fell into the roadway.
Anyone with information about the incident is asked to contact Cpl. Kitchen at 850-471-6928.
Following is a stock photo of the type of car police are searching for in connection to the incident