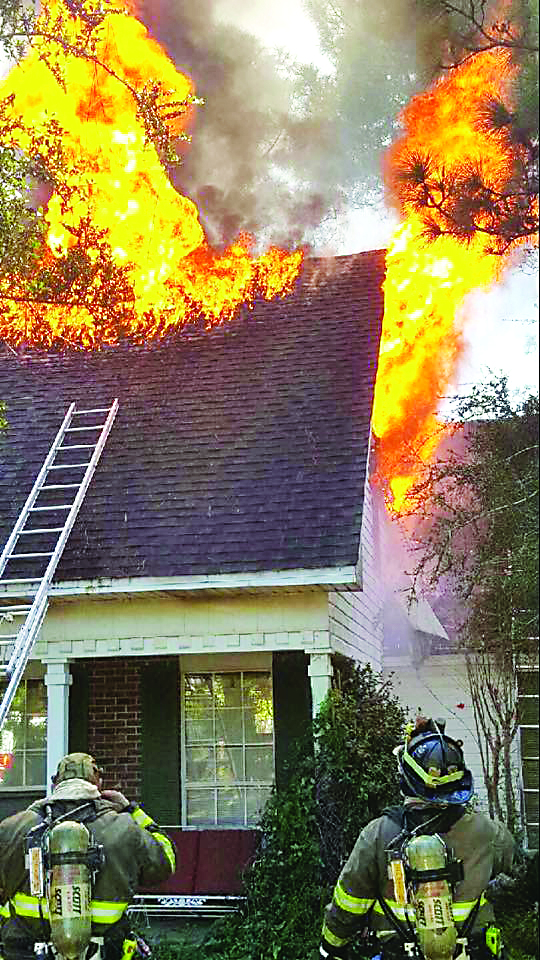 Two elderly residents escaped injury last Saturday afternoon after a fire ripped through their 2-story home in Holley-by-the-Sea.
The fire started in the roof of the Manatee Street home at around 12:27 p.m., according to Holley-Navarre Fire District Battalion Chief Howie Rounsaville, whose unit was first on scene at 12:34 p.m.
"The alarm went into dispatch at 12:27 p.m. We were dispatched at 12:28 p.m. The first arriving unit on scene (HNFD) got there at 12:34 p.m.," Rounsaville said.
According to the Battalion Chief, an elderly couple lived at the home and the husband was outside doing yard work when someone walking by the home on the street notified him that there was smoke coming from the roof of the home.
"He then went inside and notified his wife, and they gathered up their pets and brought them outside. They were outside of the home prior to our arrival," Rounsaville said.
Holley-Navarre Fire Department, Midway Fire Department, Navarre Beach Fire Department, Florosa Fire Department, Mary Esther Fire Department and Gulf Breeze Fire Department and Lifeguard Ambulance Services all responded to the structure fire after the call went out.
The fire destroyed the 1,600 sq. ft. house, which was built in 1994.
The cause of the fire is currently under investigation by the State Fire Marshal's Office.