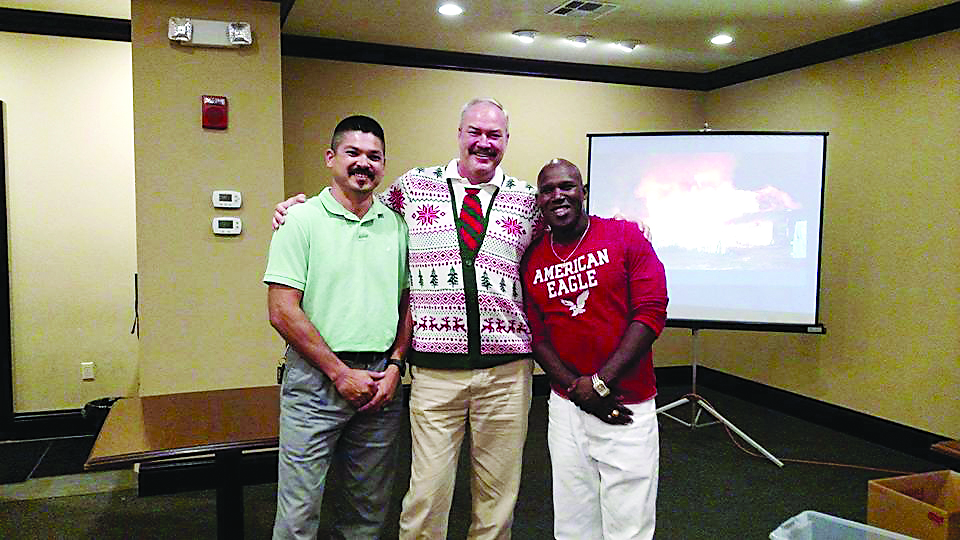 Holley-Navarre Fire District named Johnny Robertson their Firefighter of the Year last week at their annual Christmas party.
During the annual party, the Meritorious Service Award was also given to Holley-Navarre Firefighter Ernest Harris.
Robertson is a fresh face at the department, having only worked there full time for a little over a year. But HNFD Chief Ron Norton said he's already proven he goes above and beyond at the department, which made him the perfect choice for Firefighter of the Year.
"He does a lot of in-house fixing mechanical things like lawnmowers and repairs to trucks. He's done modifications and things to the station and other things mechanically to help save us money in the long run," Norton said. "Robertson inspires pride in ownership with vehicle maintenance and station upkeep. He is not afraid to get his hands dirty and has the knowledge as well as abilities to troubleshoot problems, get the necessary parts and complete minor repairs saving the District hundreds of dollars in vehicle maintenance costs."
Robertson has worked for several area fire stations during his career as a firefighter including the Florosa Fire Department and the Mary Esther Fire Department. Robertson worked at HNFD part time several years ago before returning to work there full time.
The fire chiefs at HNFD picked Robertson out of a pool of 5 finalists for Firefighter of the Year.
The Meritorious Service Award is issued to fire district employees for meritorious service to the district in five-year increments.
Harris was awarded a 15-year commendation for outstanding support and commitment given to the Holley-Navarre Fire District.
Harris has been serving the community since 2001.