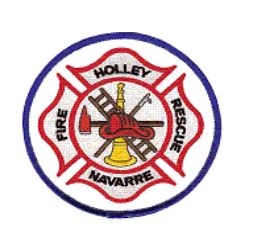 Firefighters were able to rescue a toddler, but friends say the boy's grandmother perished in a residential house fire yesterday in East Navarre.
At 10:43 a.m. the Holley-Navarre Fire District was alerted for a residential structure fire in the 2200 block of Jeannie St. The dispatch center advised they
had received a 911 call from a neighbor one street over, reporting smoke coming from a house on Jeannie Street.
Holley- Navarre Fire District Chief Ron Norton arrived and reported "heavy smoke pushing from a mobile home."
Engine 45 arrived right behind Chief Norton and began stretching lines for fire attack.
While gearing up at the front door, the Captain from Engine 45 heard crying coming from inside the home. Therefore, he immediately made entry and successfully located and rescued a 15-month-old male from the home. The child was located in a playpen just inside the front door of the smoke-filled home.
The child was transferred to Lifeguard EMS and transported to Sacred Heart Hospital. According to EMS reports, he had suffered burns over 30% of the body and was to be transferred to Shands Hospital in Gainesville for further treatment.
E45 crew entered the structure to combat the fire and search in blackout conditions for additional persons believed to be inside. As additional crews from Engine 41, Ladder 49 and Engine 37 arrived, they also entered the structure to assist fighting the blaze and assist with the search.
With the blaze beaten back and under control and interior visibility improving, crews were able to locate an adult female in the hallway near the back bedroom, unfortunately she was deceased.
The Florida State Fire Marshal's Office is investigating the cause of the fire.
The Medical Examiners Office along with the Santa Rosa County Sheriffs Office are also conducting investigations of the tragic loss of life. No other injuries were reported.
Norton expressed thanks to HNFD mutual aid partners Navarre Beach, Midway, Florosa and Mary Esther fire departments.
Timeline of events
Call dispatched – 10:43
First arrival – Chief 10:49, E45 10:50
1st victim found/ removed – 10:52 2nd victim found/ removed – 11:07
Fire out – 11:12
Operations Completed – 13:39