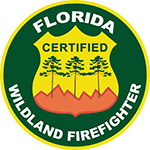 Firefighters from Florida Forest Service's Blackwater Forestry Center are responding to a pair of fires, including one in Navarre.
The fire in Navarre is located off of East Bay Boulevard and Lovewood Drive.
According to FFS Spokesman Joe Zwierzchowski, local fire departments have that blaze contained but Forest Service crews will assess and possibly put in a security line.
Another active fire is located in west Pensacola near Sorrento Road. Two tractor-plow units are en route to that fire.
Crews are also monitoring a 98-acre fire from yesterday in the marshes along Lillian Highway.
Emergency management officials urge residents to be "very cautious" with outdoor burning. With the recent freezing temperatures there is a tremendous of freeze-dried vegetation that can fuel a fire. Coupled with a lack of rain in the recent days, residents are asked to be very cautious with outdoor burning.