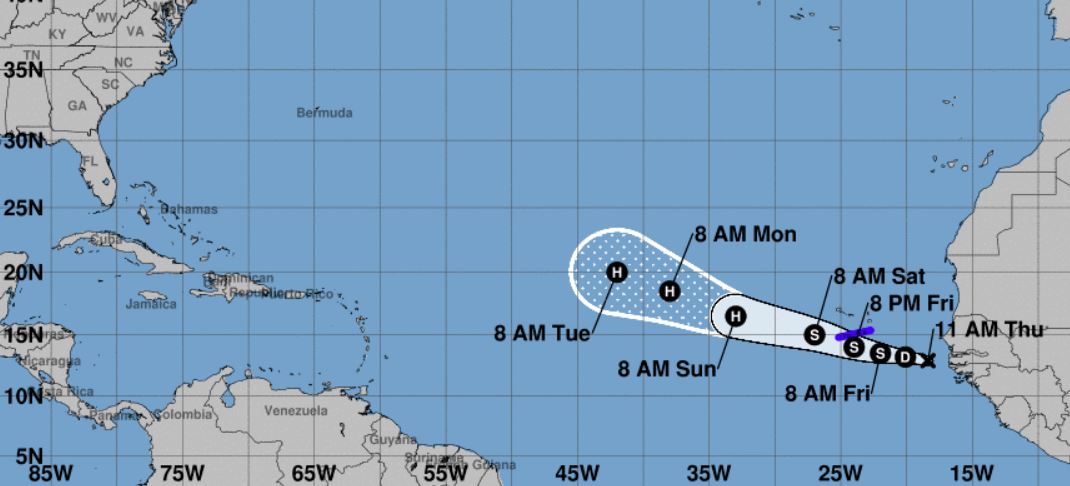 The National Hurricane Center at 11 a.m. AST issued Potential Tropical Cyclone Six Advisory Number 1 for a disturbance which is expected to impact the Southern Cabo Verde Islands tommorrow.
NHC reported that presently the system has maximum sustained winds of 30 mph and is located about 425 miles ESE of the Southernmost Cabo Verde Islands.
Currently the disturbance is moving west at 12 mph and has a minimum central pressure of 1007 MB.
"This general motion with a gradual turn toward the west-northwest is expected to continue during the next few days," stated NHC Forecaster Lixion Avila.
Per NHC, a Tropical Storm Warning has been issued for the southern islands of Santiago, Fogo and Brava.
"Some strengthening is forecast during the next 48 hours, and the disturbance is expected to become a tropical storm during the next day or so," Avila said.
NHC reported that environmental conditions are favorable for the system to become a tropical cyclone tonight or Friday with an 80 percent chance of formation through 48 hours, increasing to 90 percent through five days.
Per the forecast, the system could produce total rain accumulations of 4 to 8 inches across the southern Cabo Verde Islands. These rains could produce life-threatening flash floods.