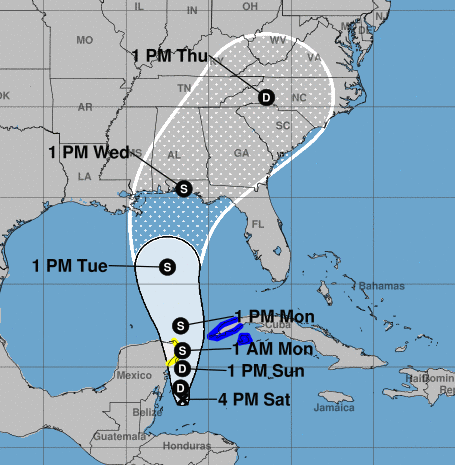 If Potential Tropical Cyclone Fourteen continues to develop as expected, Tropical Storm Michael could form Monday and make landfall near our area Wednesday afternoon.
The National Hurricane Center at 4 p.m. CDT issued its first advisory on the storm, which is getting better organized over the northwestern Caribbean Sea.
The system is currently moving northwest at 6 mph per the report.
"A motion toward the north is expected during the next couple of days. On the forecast track, the center of the disturbance should move near the eastern coast of the Yucatan Peninsula of Mexico tonight through Sunday night, and then move into the southern Gulf of Mexico on Monday," NHC Forecaster Jack Beven stated.
Maximum sustained winds are near 30 mph (45 km/h) with higher gusts.
"Strengthening is forecast during the next couple of days, and the disturbance is expected to become a tropical depression on Sunday and a tropical storm on Sunday night," said Beven.
The next intermediate advisory will be issued at 7 p.m. CDT. The next complete advisory will be issued at 10 p.m. CDT. 700 PM CDT.