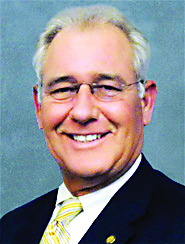 Florida Governor Rick Scott was in Milton last evening for the visitation service of late Florida Senator Greg Evers, who died August 22 in a vehicle crash near his home in Baker.
Evers represented District 2 in the Florida Senate from 2010 to 2016 and also represented District 1, parts of Escambia, Okaloosa, and Santa Rosa Counties, in the Florida House of Representatives from 2000 to 2010.
"During his 15 years representing North Florida, he advocated for criminal justice reform and higher pay for state employees," stated a memo from Scott.
"As a symbol of respect for the memory of former Senator Evers, and his service to Florida, I hereby direct the flags of the United States and the State of Florida to be flown at half-staff at the County Courthouse of Santa Rosa, Florida, the City Hall of Milton, Florida, and at the State Capitol in Tallahassee, Florida, from sunrise to sunset on Tuesday, August 29, 2017."
Evers will be laid to rest today at Beaver Creek Baptist Church Cemetery, following a 1 p.m. funeral service at First Baptist Church of Milton, located at 6797 Caroline Street.