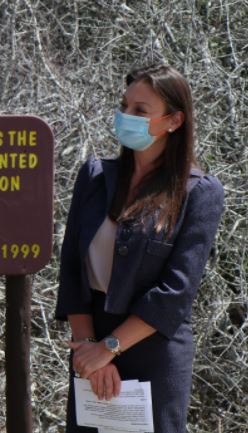 Florida Governor Ron DeSantis, during a press conference yesterday with law enforcement officials from across the state, signed House Bill 1, the "Combating Public Disorder Act," creating a zero tolerance policy for violent and disorderly assemblies. The legislation took effect immediately.
The law created new penalties for crimes of mob intimidation and cyber intimidation, which are now first-degree misdemeanors, and destroying monuments and historic property, which are now second-degree felonies and include restitution for the repairing or replacing of the memorial.
Additionally, the bill also increased penalties and rankings for certain offenses like assault, battery, battery on a law enforcement officer, criminal mischief, burglary, and theft when the crimes are committed during or in furtherance of a riot.
Subsequently, Nikki Fried, a Democrat independently elected to DeSantis' cabinet, accused the bill of being fast-tracked, bypassing what she said was the accountability of numerous Senate committees. She also said the legislation had faced "fierce, heated criticism for harming freedom of speech in Florida."
Fried also issued following statement: "This isn't a game. This Governor and his Republican allies love to talk about the Constitution, while shredding it with extreme legislation like HB 1. Silencing the speech of those seeking equality is straight from the Communist regime playbook. The criminal aspects of this bill are already illegal. HB 1 protects no one, makes no one safer, and does nothing to make people's lives better. It's simply to appease the Governor's delusion of widespread lawlessness, and it's frightening to imagine the lengths to which he'll go to strip away rights and freedoms for political gain. The message from this Governor and his enablers is loud and clear: if you disagree with him, you will be silenced."
But DeSantis isn't backing down.
He issued the following statement: "In Florida, we are taking an unapologetic stand for the rule of law and public safety. We are holding those who incite violence in our communities accountable, supporting our law enforcement officers who risk their lives every day to keep us safe and protecting Floridians from the chaos of mob violence. We're also putting an end to the bullying and intimidation tactics of the radical left by criminalizing doxing and requiring restitution for damaging memorials and monuments by rioters. I am proud to sign this bill into law and appreciate the diligence of our elected leaders in the state legislature, especially Senator Stargel, Senator Burgess, Representative Fernandez-Barquin, Representative Perez and Representative Byrd, for getting this proposal to my desk so swiftly."