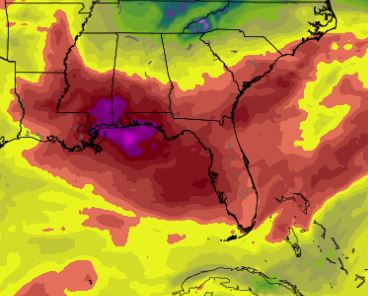 Graphic depicting ECMWF model via http://weathermodels.com
"A front will sag down into the Gulf later this week," said Georgia-based Meteorologist Dylan Frederico of WTVM ABC 9 in Columbus, adding, "any time that happens during hurricane season, you have to watch it.
But as of now the National Hurricane Center's 2 p.m. EDT tropical weather update states no tropical cyclone formation is expected during the next five days in the North Atlantic, Caribbean Sea or Gulf of Mexico.
"Some EURO ensemble members hint at tropical trouble trying to spin up. Either way, expect higher rain chances along the Gulf Coast," Frederico said.