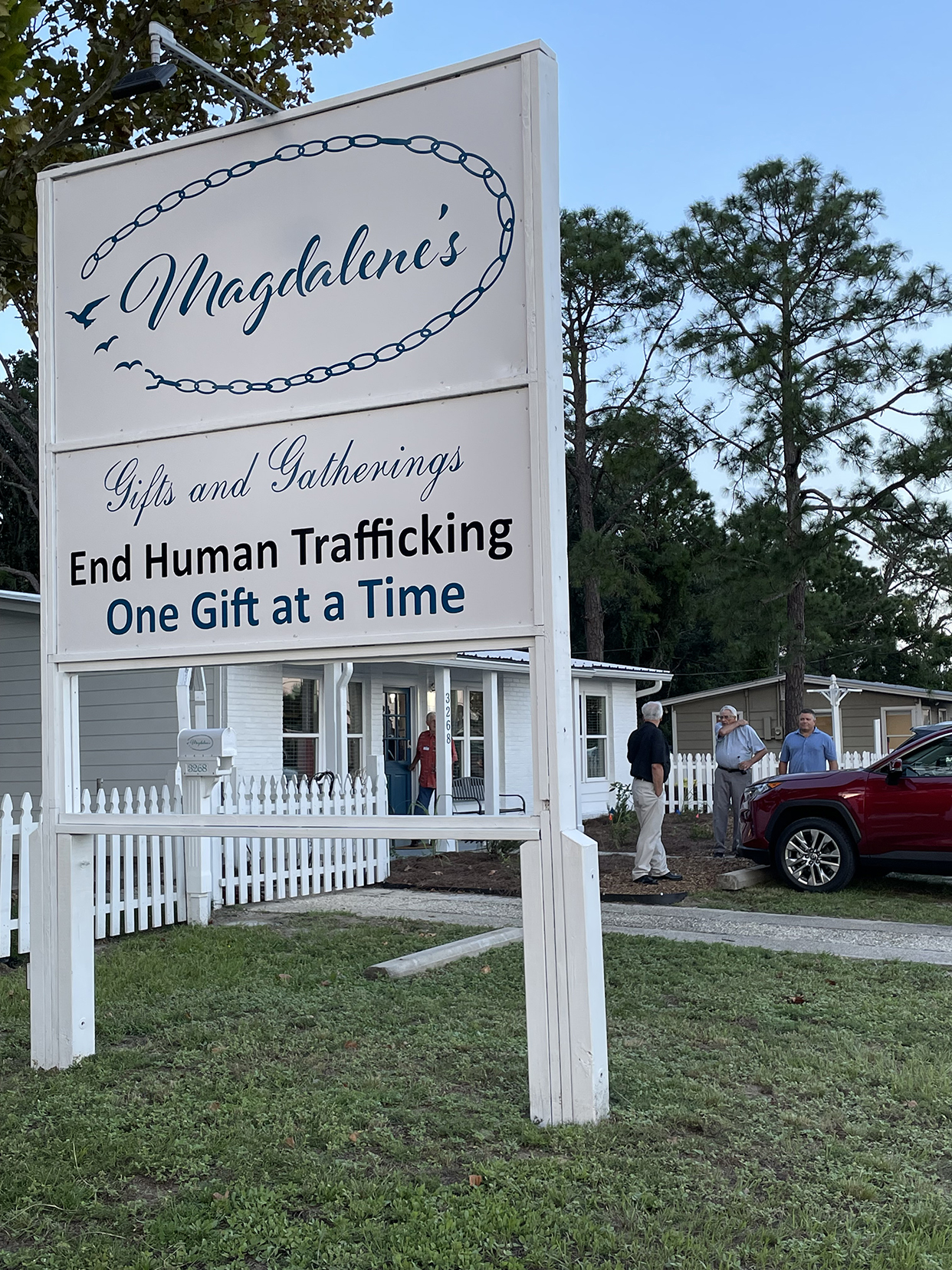 On November 14, 2019, a Pensacola operator of multiple massage parlors plead guilty to charges of human trafficking. One location was in Gulf Breeze, Florida. On April 1, 2021, Magdalene's, Inc., took possession of that Gulf Breeze building at 3268 Fordham Pkwy. The new 501(c)(3) nonprofit organization is dedicated to serving adult women survivors of sex trafficking and to ending sex trafficking, one gift at a time, through its new store, Magdalene's Gifts and Gatherings.
The community has rallied to Magdalene's cause and has donated more than $50,000 for renovations, furnishings, equipment, inventory, and supplies as well as countless hours of the time and energy of local volunteers. Magdalene's Gifts and Gatherings will host its Grand Opening on Friday, Oct. 1, thanks to these generous supporters.
Magdalene's Gifts and Gatherings will offer treasures designed by local and national artists, as well as feature pieces created by survivors of trafficking and prostitution. Items include jewelry, candles, clothing, bags, original art, photography, and pottery. Magdalene's will also host small events including art and pottery classes, acoustical music from an outdoor "stage" with curated food trucks, as well as offering space to small groups for studies and other community activities.
The net proceeds of the gift shop will be used toward Magdalene's mission to serve women who have been or are at risk of being sex trafficked as well as to love and serve all women on their journey toward healing and restoration.
How did Magdalene's Board of Directors become so laser-focused on sex trafficking? Board members Jackie Bell, Susan Junot and Deb Atchison note, "We now know what we cannot unknow. After the guilty plea in 2019 of the massage parlor owner, our hearts were broken to find this in our backyard. As we researched, we became more and more convicted by the devastating effects of trafficking on its victims." Florida ranks 3rd in the nation in human trafficking cases. The Florida Department of Children and Families reports that Northwest Florida has the highest trafficking intake rate per 100 children in the population.
Magdalene's leadership is working to establish Magdalene's House, a long-term residential home for survivors of sex trafficking. It is very important to the team that existing resources in our area aren't duplicated. Instead, they plan to develop a program that addresses a true gap in services. Early on they learned that the closest long-term treatment facility fully dedicated to addressing the unique needs of women survivors of sex trafficking is either in Jacksonville or Birmingham, Ala.
Until Magdalene's House is established, Magdalene's, Inc., will partner with local providers serving our community to end human trafficking in our time, partners such as Set Free Refuge, The Nissi Project, Called2Rescue, the Pensacola Dream Center, and other members of the State's Circuit 1 Human Trafficking Task Force. We will also partner with other community providers such as Interfaith Ministries, Good Samaritan Clinic, and Grace's Place.
Coretta Scott King once said, "The greatness of a community is most accurately measured by the compassionate actions of its members." We are certain that by working together, human trafficking can be eliminated in our backyard.
Learn more at www.magdalenes.org.