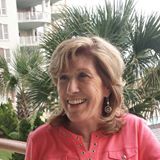 A familiar face may return to the helm of the Navarre Beach Leaseholders Association. Teresa Pack has agreed to serve again after current president Tim Keohane announced he's stepping down after a one-year term.
Although Keohane could serve an additional year, he told about 24 attendees at the group's Sept. 19 meeting that he's taken on the role of scouting recruits for his alma mater, The Citadel, which will consume a large part of his time.
"I still plan on being a board member," Keohane said, pointing out that during his tenure the association helped lobby county commissioners to set a $250 cap on lease fees.
Keohane praised Pack's prior service and noted the vote would take place at the Oct. 17 meeting. Norminations will also be taken from the floor on that date.