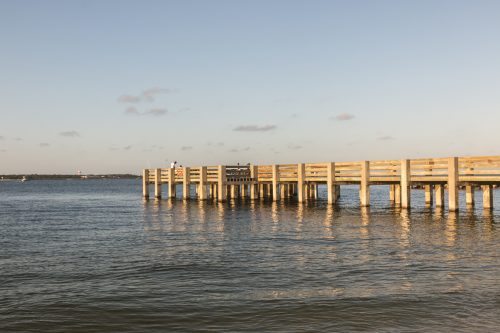 Gulf Islands National Seashore will temporarily close the fishing pier at Fort Pickens to all visitor access on Saturday, September 19, to complete an underwater clean-up. Gulf Islands National Seashore has partnered with 3rd Coast Divers to conduct the underwater marine debris cleanup as the water immediately around the fishing pier can become cluttered with lost equipment, litter, and other debris.
The closure of the fishing pier will begin Friday evening, September 18, at 9:00 p.m. and continue through 12 p.m. on Saturday, September 19. Rangers will be on duty at the fishing pier to enforce the closure, which extends out 25 yards from the pier. These cleanups are designed to provide a cleaner and healthier environment for both the public on the pier, and the marine life beneath the pier.
Once the cleanup has been completed, the fishing pier will be immediately reopened. For more information on the Fort Pickens Area, please visit www.nps.gov/guis/planyourvisit/fort-pickens-area.htm.